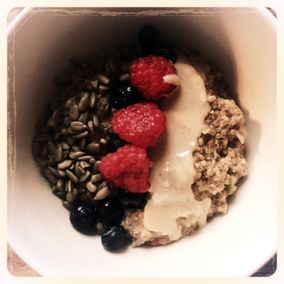 Breakfast is probably the easiest meal to make plant based, especially if you are new to veganism or eating a plant based diet.
Most people already eat a breakfast that has limited animal-based ingredients and it's super duper simple to substitute what you do use (if you want to).
One of my favourite breakfasts is porridge or overnight oats. It's lovely at this time of year (especially in Scotland) when it's really cold outside and you want something nice and warm.
There are an endless number of variations you can make with oats which is why I LOVE them so much.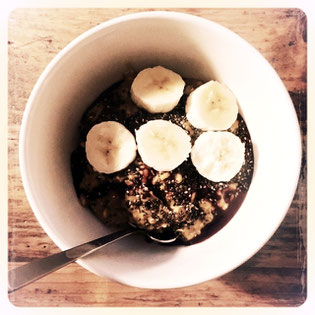 Oats are full of fibre and have a low GI which means they don't spike your blood sugar and make you feel fuller for longer.
To pack as many nutrients into my oats as I can I add a scoop of vegan protein powder. You'll notice this in quite a few of my recipes I share. This adds 10g of protein to my breakfast. Protein is a building block for all cells and tissue repair. As a runner protein is something I ensure I top up on and this is an easy way of doing that. The vegan protein I use contains all the essential amino acids. The human body doesn't make these so we need to get them from our food.
In order to make your porridge plant based you can add almond/coconut or oat milk instead of dairy milk. These are available in nearly all super markets and you wouldn't even know the difference when they are mixed with something like porridge. Make sure you look for an unsweetened version of plant milk, minus any carrageenan, which is used as a thickening agent in some milks but it's not very good for us.
I like to add loads of toppings to my porridge - almond butter, chopped banana, sunflower seeds, chai seeds, goji berries and maca powder, which is great for a natural energy boost.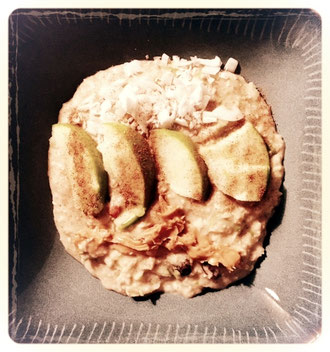 A favourite porridge combo of mine at the moment is apple and cinnamon. It's really creamy and mourish and tastes a bit like a pudding.
Porridge
1 teacup oats
200 mls almond milk (or milk of choice)
1/2 green apple grated (keep other half as topping)
1 teaspoon of cinnamon
1 teaspoon of tahini (this makes it really creamy)
1 scoop Arbonne Vanilla pea protein
Toppings (optional)
Chopped apple
Sunflower seeds
Almond butter or more tahini
Drizzle maple syrup (if needed)
Coconut shavings
Place all the porridge ingredients into a small pan and simmer on low heat. If it gets too thick add some more almond milk or water. I like mine pretty thick but add more fluid if you prefer it smoother.
Place into a bowl and add toppings.