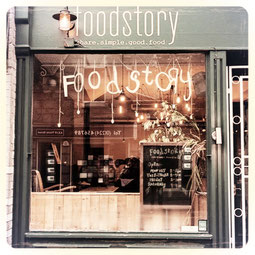 Living in the North East of Scotland, where we're best known for rowies/butteries (basically a flat croissant) and fish and chips, we have been slower than some cities to catch on to the healthy food band wagon.
Whilst we don't quite have the same number of choices as Glasgow or Edinburgh, our granite city is slowly waking up to the demand for healthier and plant-based food.
Having grown up in Aberdeen, I've seen a massive shift in the past 8-10 years and I want to share some of my favourite places to get tasty veggie and vegan food. I hope this is helpful especially for visitors to the city.
The first place I have to mention is Food Story Cafe. The reason this comes top of my list is because I've seen the cafe grow from a tiny little nugget to successfully crowd source funding a much bigger space, opening a shop and community space above the cafe, winning awards and continually being creative and innovative. I believe Food Story has contributed massively to the shift in attitude towards veggie & healthy food in our city.
They have a whole cabinet of delicious salads and hot specials such as vegan mac and cheese, lasagne and veggie sausage rolls at lunchtime. There is always a hot pot and at least 2 soup options which are always veggie. They do have a few dishes that include meat (at breakfast time) which means they cater slightly beyond veggie and vegan tastes.
At breakfast they have their own homemade granola and different porridge options, plus pancakes with soy or coconut yoghurt, good old almond butter on toast and other options you can see on their site (link above).
They offer a variety of plant milks, which always include oat and almond milk. The portions are pretty huge and good value for money. They usually have a few gluten free options too.
My favourites:
Sweet potato & spinach salad with a tahini dressing
Carrot and edamame bean salad
Buddah bowls from the evening menu
Veggie sausage rolls
All the cakes
Oatmilk Latte/Flat white
Next has to be Bonobo Tribe. These guys are a group of passionate, genuine and creative peeps. This is Aberdeen's first and only fully vegan cafe which opened in 2017. I've seen the concept blossom from a once weekly pop up cafe at The Wellbeing Centre, to a beautiful cafe & take away with it's own garden.
They are unique because Bonobo is founded as a workers co-operative, which means employees have the option to become joint owners of the business.
My favourite drink at Bonobo is their Tumeric Latte with oat milk. Being a vegan cafe, they offer more plant based milks than anywhere else in the city which is something I really appreciate.
They also offer more of what I'd call 'vegan specialties' such as tofu scramble and there is always a tasty vegan scone.
Their cakes are absolutely delicious and I particularly love the banana bread with chocolate chunks.
I've also tried a raw salad with cashew cheese, which was super tasty and a vegan sausage and roasted veggie wrap.
I went with a friend who tried their mac and cheese and said it was delicious. As these guys are totally vegan, you can be sure that everything will suit your needs if your diet is fully vegan.
My favourites
Tumeric latte with oat milk
Banana bread
Raw salad
Scone
I'd also like to talk about Parx Cafe, which is another place I've seen transform since opening and gradually introduce more veggie options. They are located in a great spot on Rubislaw Terrace, which is opposite the beautiful gardens if you fancy a take away in the very rare Aberdeen sunshine. They always have a veggie soup and at least 3 or 4 veggie salads with freshly squeezed juices/tea and coffee. My one suggestion for Parx would be to increase their non dairy milk options as soy is the only one they regularly stock.
My favourites
Soup & salad
Homemade soda bread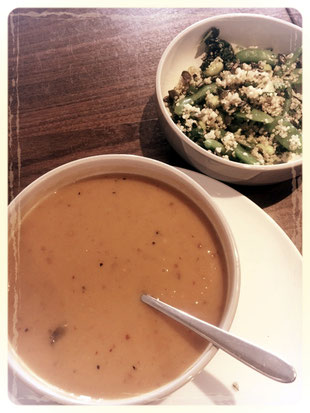 Finally, I'd like to cover the high street and there's really one spot I pop into regularly for lunch and that is Pret. They are on Union Street and offer loads of veggie options in terms of salads and hearty soups.
My favourites
Vegan chilli soup
Spicy Carrot soup
Beetroot salad
If you have any other suggestions, I'd love to hear about them. I'm continually looking for tasty, healthy veggie food. I will post about veggie/vegan friendly eateries outside of the city centre in a later blog entry.
Jo x