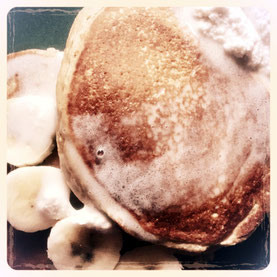 I wanted this to be my first recipe because I LOVE pancakes. My granny used to make us pancakes after school when we went to her house. Dinner was sometimes pancakes with mashed banana inside and sugar literally layered on top...
They were delicious as kids but as we don't have any cane sugar in the house and the past two years have been spent healthying things up around here, the pancakes I make are a little different.
One of my biggest vegan transition struggles so far has been finding an egg replacement. I've tried chai seeds, flaxseeds, mashed banana, a mixture of all of the above and an actual egg replacement powder. Every single one has resulted in a gooey mess that sticks to my pan (yes it is non stick).
The issue I have with the egg replacement is that 1. it didn't work when I used it and 2. the ingredients are somewhat suspect and one of my main reasons for moving towards a plant based diet is to use more nutritious ingredients.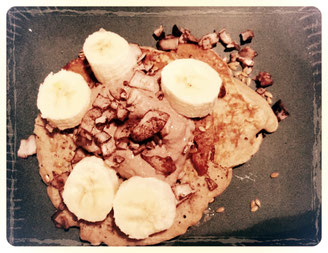 So..... to cut a long story short, these pancakes contain eggs. If you know of a vegan pancake recipe that really works and does not contain sugar, please message me. I'd love to find one that is healthy too.
The great thing about pancakes is that you can literally add anything to the batter and as a topping. Once the batter is right, you can really push the boat out!! The basic recipe is below but please get creative and let me know how they turn out. I sometimes add walnuts, chai seeds, greens, flax seed, cinnamon or tumeric to the mix. It sounds wacky but tastes sooooo darn good!!
Ingredients (for 2 people)
2 scoops Arbonne vegan protein (or sub with your own)
2 dessert spoons coconut or oat flour
2 dessert spoons buckwheat flour
2 eggs
1/2 teaspoon GF baking powder
50mls (approx) Coconut milk (or milk of choice)
teaspoon coconut oil for frying
Method
Place all dry ingredients into a bowl
Add eggs
Stir with a fork or spoon until the eggs are mixed in.
Add your milk a drizzle at a time until you have a batter. Add more milk if you prefer thinner pancakes.
Melt the coconut oil in non stick frying pan and wait until hot.
Add a couple of spoons of your mix to the pan and leave until small bubbles appear on top of pancake. DO NOT GET IMPATIENT HERE!!! You need to see the bubbles before turning. I've made this mistake waaaay too many times.
Turn pancake over and leave until cooked through.
Serve with as many toppings as you like!!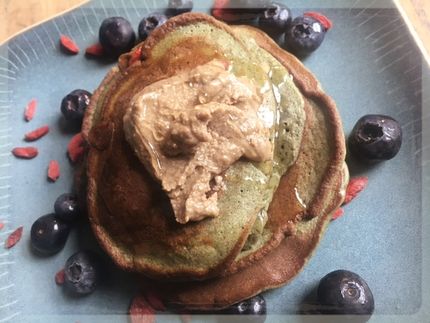 As you can probably tell, I like to mix it up and add lots of different things to my pancakes.
This picture is of my "greens" pancakes where I add 1 scoop of Arbonne greens balance, almond butter (always) on top and some fruit and a little maple syrup on top.
I sometimes add a drizzle of coconut cream or make a little chocolate mouse with coconut yoghurt, chocolate protein and cacao powder. It's nice to put between the layers of pancakes or smear on top.
I'd love to know if you try out my recipe.
Jo x