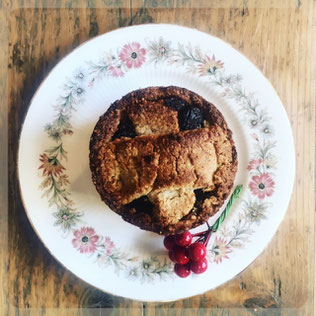 Vegan: gluten free: cane sugar free
I have never been a massive fan of mince pies because I find the pastry really sweet and dense but I am always up for the challenge of healthy-ing up traditional treats and I LOVE Christmas so mince pies had to be one of my Christmas healthy treat challenges. Thankfully they turned out pretty well.
I had a good idea of how to do the fruit part but was seriously worried about my abilities to make a pastry that's gluten free and vegan. I looked around on google to get inspiration and found a few ideas. This pastry was mainly inspired by The Healthy Chef.
Ingredients
Fruit mix
2 sweet apples (I used pink ladies)
1 teacup raisins
50g dried cherries or apricots diced
1 x orange zest 
Juice from half an orange
100mls apple juice
1 teaspoon cinnamon
1/2 teaspoon ginger
1 teaspoon nutmeg
1/2 teaspoon allspice
Pastry
1 mug GF oats
1/3 mug desiccated coconut
1/3 mug almond meal/flour
2 dessert spoons maple syrup
1 dessert spoon coconut oil (at room temp)
Water
Method
Chop apple into small cubes. 
Place all fruit and spices, apple juice and orange zest & orange juice into a pan and leave to simmer until most of the juice has absorbed and the fruit is soft.
Pour oats, almond meal, coconut oil and maple syrup into food processor and blitz. I used the "pulse" option on my food processor. Add water a drop at a time until it forms a dough. You don't want it to be too wet or too crumbly. It should stick together without being gooey.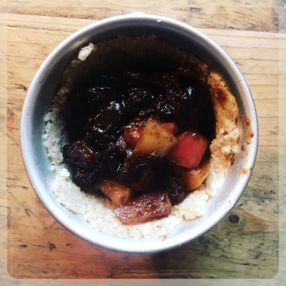 Place dough between two baking sheets and roll out with rolling pin.
Coat mini pie rounds (I used 3 metal pie rounds) with coconut oil and dust with almond flour.
Cut circles in the pastry and fit into pie molds, press around the edges all the way up.
Spoon enough fruit to fill 3/4 of the way up the the pie round.
I cut two rectangular strips in the pasty and placed on top of the fruit in a criss cross pattern, pressing down the edges with a teaspoon.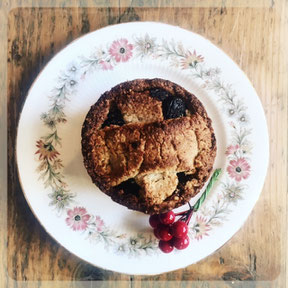 Place mince pies on a baking tray in the oven at 180 degrees for 25-30 mins.
Leave to cool and use a sharp knife to go round the edges of your pie. Pat on the bottom and the pie should fall out quite easily.
I was fortunate to have taste testers because some of the Arbonne team were here for a cuppa with their little ones... One little boy in particular was loving these little pies!
This was the first time I made this recipe so I'd say adjust flavours to suit your own palette. You may want to add some maple syrup or stevia to the fruit mix or switch around the fruit you add. Some dates would be nice to add a bit more sweetness.

I'd love to hear how you get on with this recipe and any adaptations you make.
Jo x