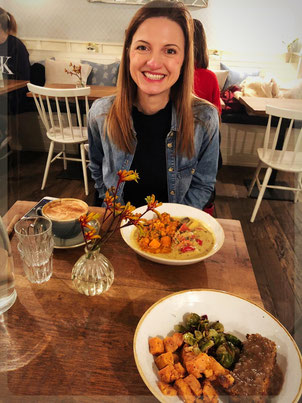 This is something I've been visualising doing for a long time and when I found out I'd be in London for our work Christmas party I decided it was time. I knew my sister would be 100% up for it too, as we both LOVE healthy food. There is quite literally nothing better than going somewhere with someone who appreciates it as much as you do. Eating delicious food is not just about the food itself, it's also about the company, atmosphere and conversation and I had it all going on is this photo!!
The Deliciously Ella Blog has been a big inspiration for me in changing the way I eat and focusing on nourishing my body with plant based whole foods. I love Ella Woodward's ethos, which is not about diets or deprivation or promoting the fact one size fits all. Her philosophy is all about being natural, simple and honest and I love that too. She also veers away from labeling in terms of calling her food "vegan" or "vegetarian" although everything I've seen on her blog appears to be plant-based and I didn't spy anything in the deli that wasn't plant-based either.

Similar to myself, Ella started to follow a plant based diet to improve her health and it seeped into all areas of her life because she was passionate about it. She is now a successful entrepreneur with books, cafes, apps, energy balls and healthy eating programs. I admire her because she seems to have grown personally along with her success and diversified where she saw opportunities.
Now to the cafes.... I have ALWAYS wanted to visit the MaE Delis. There are 3 in London but we decided the original one on Seymour Place, which opened in December 2015, would be our best option. I always assume that the original of everything is the best and it didn't disappoint.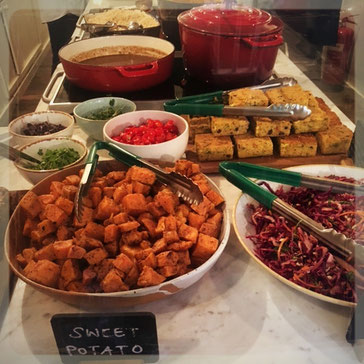 It was extremely cold and wet in London so by the time we arrived at the cafe we were ready for hot food and drinks. I'd assumed it would be really busy but we must have arrived before the lunchtime rush and because it was a week day we easily found a seat. The food is all prepared and visible in the glass cabinets, which means you can see what everything looks like. I had pancakes in mind before we arrived but as it was past 11am and I thought it would warm me up, I opted for curry.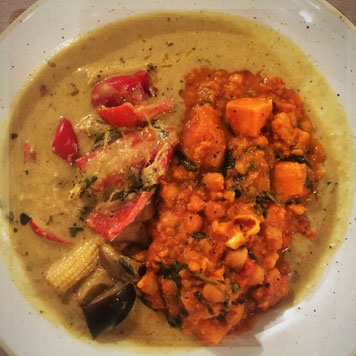 I had the most delicious thai yellow curry and I also got some of the sweet potato and chickpea curry. To drink I had a chai latte with coffee in it. This was also delicious and fresh. They must have used a spice mix rather than a syrup because it had no sweetness in it. There were plenty of plant milks to choose from too. I opted for my favourite oat milk.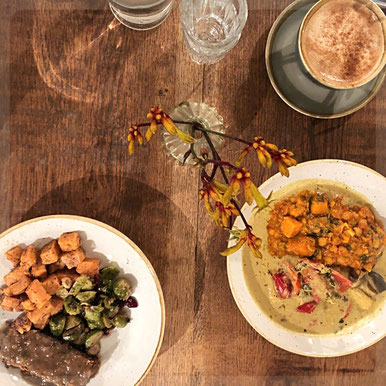 My sister had the nut roast with gravy, cinnamon sweet potatoes and brussels sprouts with cranberries. She had a flat white coffee with almond milk as well.
I loved the yellow curry. It was so flavoursome and delicious and the nut roast was AMAZING! I'd definitely have both again.
We didn't have room for a dessert but we both had another drink because I really wanted to try their tumeric latte. This was perfect and no sweetness added in there either.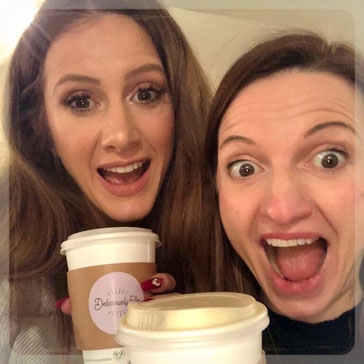 The staff were all super friendly and helpful and the atmosphere was definitely laid back and relaxed. I'd assumed the cafe would be really fancy for some reason but it was comfortable and simple, like the ethos of Ella's branding.
I'd definitely recommend popping past if you're in London and taking a friend or family member who really appreciates nice, simple, healthy food. I'd love to hear if you have any other veggie cafe recommendations for the next time I am in London. I love visiting our capital city because there are so many choices and inspiration everywhere.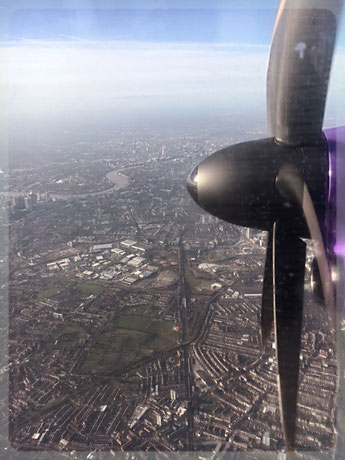 Until next time London town....
Happy Tuesday.
Love
Jo x