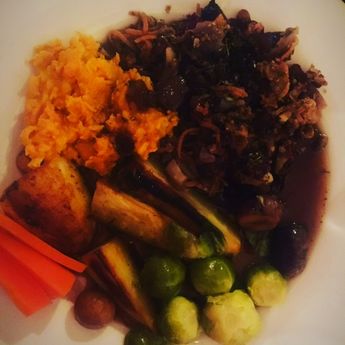 Merry Christmas everyone...
After all my planning for Christmas and ideas of what I was going to do, I ended up keeping it pretty simple but I wanted to share what I made as it was all very tasty.
The first essential was the nut roast as I absolutely love nut roast and I followed one of the recipes I shared in an earlier post.
With all the crazy rushing about I forget a few ingredients so I had to improvise a bit. It was a recipe from The Vegan Life magazine that I opted for because it looked very appealing. I missed out the granola and chestnuts because they were all sold out when I did my last minute shop. I did buy dried cranberries, which I soaked in warm water but then forgot to add them, so I used them in the gravy instead.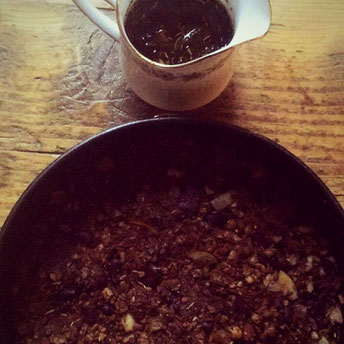 The taste of the nut roast was amazing. You could really taste the rosemary and thyme which are both flavours I love. It did go a little bit crumbly so I think I needed to add some more moisture or perhaps the chestnuts would have held it together more.
I followed the gravy recipe on the same link above (minus the red wine) and it was such a delicious and deep tasting gravy. The coconut sugar and balsamic vinegar added a nice sweet taste and it was lovely on top of my veg too. 
Everyone in my family tried a bit of the nut roast and gravy, as well as their traditional Christmas dinner. I accompanied my meal with parsnips, carrot, sweet potato and brussels sprouts.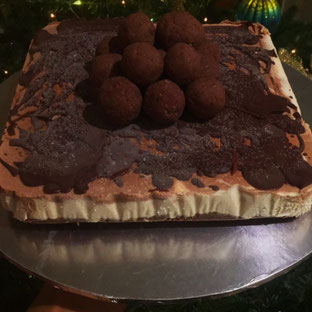 Now for desset....
I decided on a raw chocolate orange cheesecake with chocolate orange truffles and raw chocolate on top.
It's not a flavour combination I'd usually choose but I thought it would be a nice option for Christmas Day. I used fresh orange juice and orange zest to flavour the cake and cacao powder for the chocolate layer.
I'd definitely make this flavour of cheesecake again as it was really light and had a good combination of tastes and textures. I soaked the cashews for a lot longer than usual and I think it also made the cheesecake much smoother and creamier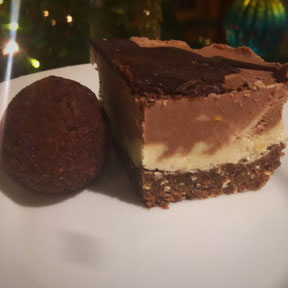 I'm planning to start an online raw cake course in 2018 so keep your eyes peeled for more details. I can't wait to help more people enjoy tasty raw treats and cakes.
Wishing everyone a Happy New Year when it comes.
Love
Jo x