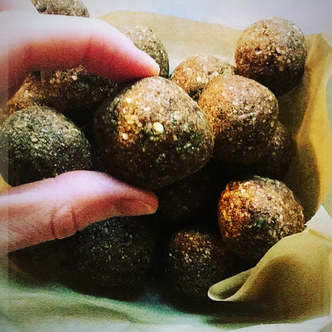 Today's post is a super quick recipe, which I created for the first time at the weekend.
To be honest I kind of winged it off the back of an idea to combine these two ingredients.
In general I'm not a massive fan of citrus flavour desserts or sweets and much prefer chocolate/caramel/banana/nutty type flavours but I'm also not a fan of comfort zones, so I decided to try something different.
I was pleased these turned out so well. I liked the taste and you could really get a hint of lemon in them. My husband really enjoyed them too.
Ingredients (makes around 10/12 large balls)
200g pistachios
200g desiccated coconut
1 dessert spoon cacao powder
1 dessert spoon coconut flour
200g cashew nuts
1 cup dates
1 dessert spoon coconut oil melted
the juice of one lemon
2 dessert spoons date syrup
Method
Place all dry ingredients in the food processor and blitz until you have a crumb-type consistency.
Add all wet ingredients and pulse/blitz until all the ingredients come together.
Add another spoon of coconut oil or water if too dry and another spoon of coconut flour if too wet.
Roll into balls and place in the fridge.
You may need to tinker with the quantities a little as this was a brand new recipe for me.
Happy caking my lovelies xx