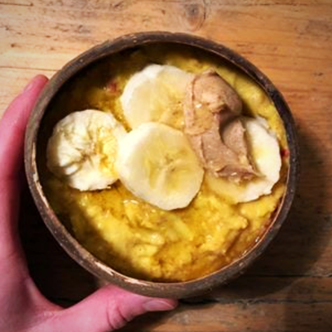 Being a Scottish lass and having ALWAYS loved porridge, combined with the freezing weather we've experienced due to the Beast from the East, I've decided it's time to talk about our native breakfast again.
It's warm, nutritious and the perfect breakie that can be tailored to individual tastes and enjoyed by the whole family!!
A pimped version of our good Scottish staple has been tipped as one of the most popular foods trends of 2018. I may be biased but I am not surprised.
The restaurant industry website Big Hospitality called porridge granola's "dowdy and downright boring cousin" (how could they?) but stated at the start of 2018, that it would become popular once more due to the creation of "build your own" porridge bars in London.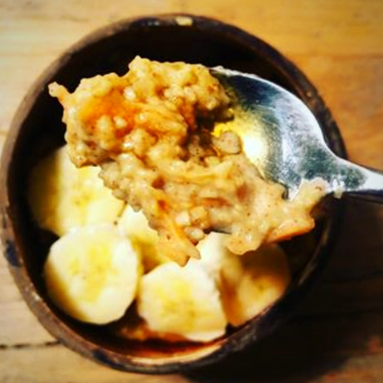 I'm not worried about a build your own bar because I do that in my kitchen every damned day!!
It was cool here way before the Southerns opened their porridge bars!!!
Not only is porridge trendy but it has many health benefits. In fact, you'd be extremely hard pressed to find a breakfast cereal to beat it (or a granola for that matter).
A bowl provides more fibre than a slice of wholemeal bread, is low in fat (minus all my additions), virtually sugar-free and provides a wealth of minerals such as manganese, copper and iron, as well as the B vitamins.
The main benefit of porridge comes from the soluble fibre in the oats. The fibre, a form known as beta glucan. It is present in other grains i.e. barley and rye, but is found in highest quantities in oats.
It forms a thick gel in the gut, which is what gives you that full, feeling. As well as helping switch off appetite, it has many other health benefits, including feeding the healthy bacteria in your gut, so helping your immune system, lowering cholesterol, and even potentially protecting against cancer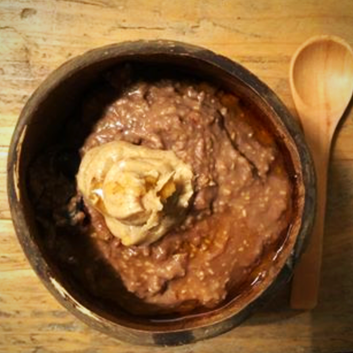 Now for my top 3 pimped porridge recipes, which are awesome for the little ones too because you can sneak in plenty of fruit and veggies. I do change and vary what I make depending on what we have in the house.
One of the things I fed my son from very early weaning stages was porridge. I used to mash a banana into it and make it up with milk and water. I didn't bother with baby rice or ready break but went straight for the proper oats.
He still loves his porridge and I use it as a way to sneak in apple, courgette or carrot without him realising. His favourite is plain and simple, made with milk and topped with almond or peanut butter and a little maple syrup.
Here are my 3 favourite "pimped" porridge bowls which are pictured above.
You can remove or add ingredients as you please and add more or less fluid depending on the thickness you like. I enjoy my porridge pretty thick so more fluid may be required. I nearly always add some vegan protein to my porridge too because I do a lot of exercise and it keeps you fuller for longer, in addition to adding some vitamins and minerals to each bowl.
Method: my method is to put everything in a small saucepan and heat on a low temperature on the hob, stirring so it doesn't stick. I don't own a microwave so there's no quick oats here. I then add toppings after I pour the piping hot porridge into my bowl (or coconut)!!
Turmeric porridge
40g oatmeal or oats (or half and half)
1 teaspoon tumeric
1/2 teaspoon ginger
Handful of goji berries
1 scoop Arbonne vanilla pea protein
1 teaspoon tahini
1 teacup coconut milk
1/2 teacup water (add to required thickness)
Toppings: chopped banana and maple syrup
Carrot cake porridge
1 smallish grated carrot
40g oats or oatmeal
1 scoop Arbonne vanillla pea protein
1 teaspoon cinnamon
1/2 teaspoon mixed spices
1 teacup coconut milk
1/2 teacup water (depends how thick you like it)
Toppings: Almond butter & maple syrup
Reeces pieces porridge
40g oats or oatmeal
1 teaspoon cacao powder
A handful of frozen blueberries
1 teaspoon maple syrup
1 teacup almond milk
1/2 teacup water (depends on thickness)
Toppings: peanut butter & maple syrup
I hope you enjoy some pimped porridge this week. If you're looking for more breakfast ideas, you can follow our Instagram account @breakfast.sisters
If you'd like me to share more information on specific subjects or recipes please comment below so I can better tailor my content.
Love Jo x