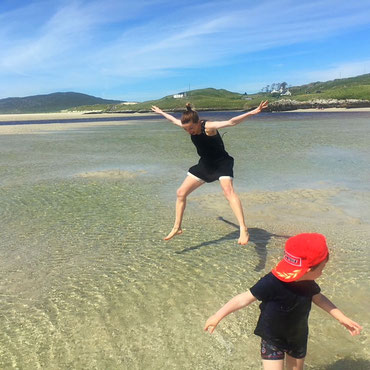 Sometimes you don't appreciate what's on your doorstep until you get older...
Many of my best childhood memories relate to smokey bonfires, damp sleeping bags, more than merry grown ups dancing to Bruce Springsteen and Runrig, a mist of midges, paddling in freezing cold crystal clear water and getting to stay up really late with my cousins.
Growing up in Scotland we had countless adventures camping on the West Coast, Deeside, Perthshire and further afield. We were also fortunate to have annual foreign holidays to Europe and beyond but guess what I remember most??? Yes, it was those times when we were closer to home and much colder.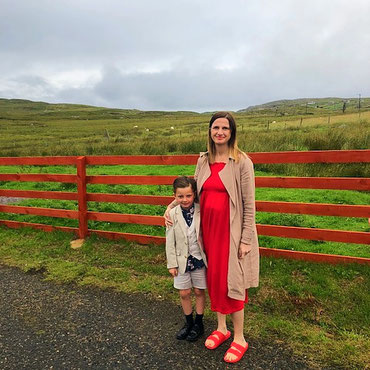 Until I had my son, I'm slightly ashamed to admit I didn't count a holiday in Scotland as a real holiday. Whilst I enjoyed a weekend trip in the homeland, when it came to longer holidays it was always Europe or further afield I dreamed about and chose to visit.
It was upon realising how much easier it is to bundle scooters, bikes, prams and other accessories that come with small people into a car, as opposed to packing for a flight, that I began to truly appreciate what was on my doorstep.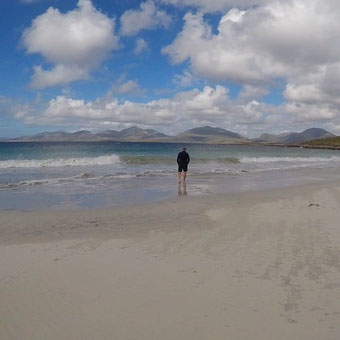 Marrying a man from The Western Isles has allowed us to explore more of the beautiful islands as we spend a week there each summer.
Over the past 7 years I've fallen in love with the beautiful beaches and remoteness of the islands. Switching off has never been my forte and this is as close as I get to feeling relaxed and disconnected from work and the general stresses of life.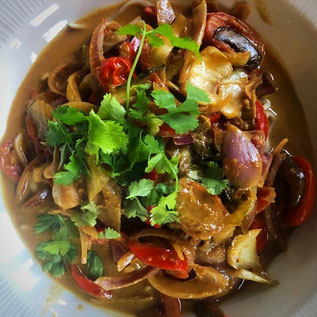 One challenge when visiting the remoter parts of Scotland is eating vegetarian. In general the Scottish mainland is relatively easy and although things are improving across Scotland, you will need to plan ahead on The islands, especially if you're vegan.
Being vegetarian is easier than being vegan and most places do have several options for veggies but I've yet to come across a fully vegan menu in any of the places we've visited on The Western Isles. This is why I'm sharing my tips for anyone who's keen to go but worried about food. You definitely don't want to miss out on this beautiful part of the world but you will have to accept there are fewer options for eating out.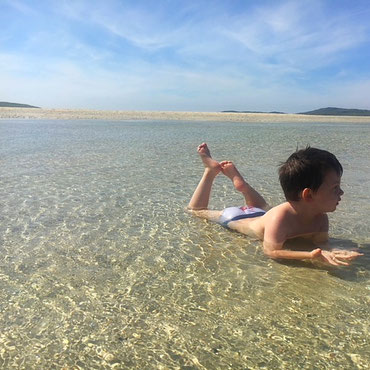 A few tips...
1. Self catering is probably an easier way to holiday on the Western Isles in general, regardless of whether you're veggie/vegan or not. It means you can get your own supplies and cater for some of your meals after a quick sprint around one of the local supermarkets. If you're visiting the Isle of Lewis, there is a Tesco, Morrisons, and Co-op in Stornoway. We are fortunate to stay with relatives so we haven't had to worry about accommodation but there are far more self catering options than hotels on the island and they work out better value too.
2. Call ahead to check if you're eating out or look at the menu on the restaurant's website. Most places will be happy to accommodate if you let them know in advance but turning up and expecting them to cater for you probably won't work.
3. Be prepared to adapt and by this I don't mean your lifestyle. I mean look at the starters and main courses and if there is a vegetarian starter you prefer opt for that with a side of something or ask if you could have a starter as a main course. I have done this many times or I pick a starter with a side portion of fries or something else. It's only a week and I have learned to accept that I won't be eating as healthily as normal. When I do this I feel relaxed and enjoy the amazing benefits of our holidays on the Western Isles.
4. Bring your own essentials. I always take plant milk with me. Most supermarkets will have soya milk but I prefer to take a few cartons of oat milk or almond milk, which will last a week.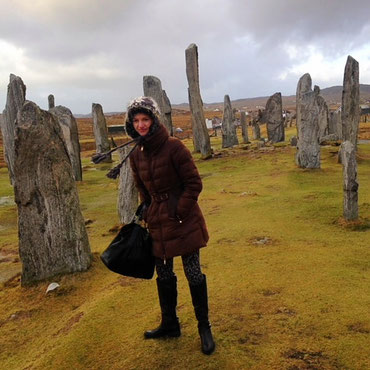 A few of my favourite restaurants and cafes on Lewis & Harris.
1. Callanish Stones visitor centre
You can kill two birds with one stone here as you get to visit one of the most popular tourist attractions on the Isle of Lewis at the same time as getting a decent lunch. There are always 2 soup options, delicious scones, and some hot food, such as macaroni cheese, quiche and pies. Call ahead to check if you are vegan as I think the soups would be fine but I'm not 100% sure. Excuse the crazy outfit in this photo. It was Barry baltic when we were here on this occasion.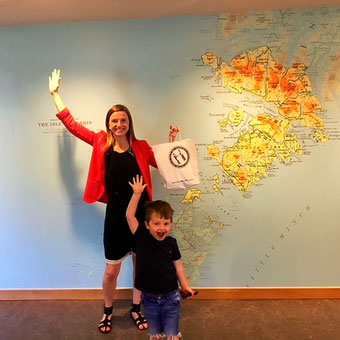 Okay so this is a gin stop rather than a food one but if you are a gin lover you MUST visit the distillery in Tarbert and bag yourself a bottle of Harris gin.
It's my absolute favourite gin and the distillery is worthy of a visit regardless of whether you love gin. Despite being a working distillery it has a real social feel and there is a cafe where you can enjoy soup, hot drinks, gin cocktails and small plates. There aren't an abundance of veggie options but you'll be missing out if you don't at least pop in for a look around or a distillery tour.
This is a relatively new community enterprise, which we visited for the first time on our trip this year. It is in THE most beautiful setting with a massive glass front and decking that looks onto the stunning Niseaboist beach in West Harris.
Talla Na Mara in Gaelic means "centre by the sea". The centre is owned and managed by The West Harris Trust on behalf of the community.
As well as a modern, bright and airy restaurant with views to die for, the centre can be hired and used for celebrations such as weddings and parties.
The restaurant is run by The Machair Kitchen and the menu contains a mixture of light bites, more substantial options and tasty home bakes. When we visited it was lunchtime and there were a couple of veggie options including soup, sandwiches, and salads. I opted for a goats cheese and sweet potato salad with a portion of home made fries.
Check out my recent YouTube video for more visuals of this beautiful little place.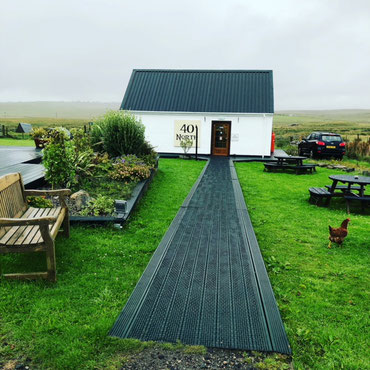 This little gem of a restaurant and takeaway in the village of North Bragar is a rare find in terms of the quality of food and service.
Although they only had one veggie option on the Verandah menu the night we visited it was absolutely delicious with loads of flavour.
I had the thai vegetable curry with noodles followed by a caramel mousse.
For carnivores and pescatarians there are ample options and our family loved the food. The staff are friendly and the restaurant is small and cosy. You really feel like you're getting a personal service. If you are enjoying a self catering holiday but don't want to cook, they also have veggie options on their take away menu.
The evening menu included 2 courses for £30 or 3 courses for £34.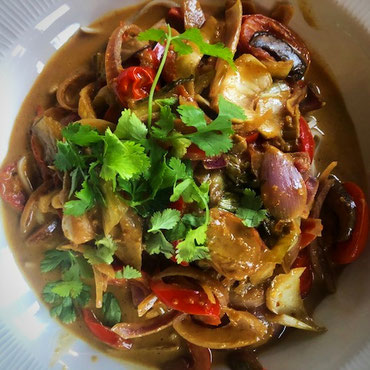 If you've been thinking about a trip to The Western Isles I can highly recommend it. You won't be disappointed with the hospitality of the islanders, the beauty of the scenery and the peace and tranquility.
Be prepared to call ahead when it comes to eating out and I am sure that most places will do their best to accommodate you. I have always found that people go out of their way to help you feel welcome. If in doubt, stock up on a few essentials before you go!!
Have you been to the Western Isles or do you have it on your holiday list?