Today I want to talk about running in pregnancy and share my personal experience, which has been very different in my current pregnancy (I'm 23 weeks today) compared to my first one.
If you're a runner and recently found out you're pregnant you're possibly searching for reliable information to help answer your questions about whether you can keep going, what are the benefits and risks?
This was my initial reaction when I was pregnant for the first time but I did not find any answers to my questions. Everything I read was so vague and uncertain and I think the reason for this is perhaps that most women don't think they should run whilst pregnant.
I can completely relate to this feeling and have been subject to negative comments such as "off course you won't be running any more!?" (is that even a question?) or "Oh wow, you're still running, is that safe?". These sort of comments may be enough for the strongest willed mamma-to-be to hang up her laces until baby is earth side. This was enough for me to do that at exactly 20 weeks pregnant during my first pregnancy but it need not be this way and I'm about to share why!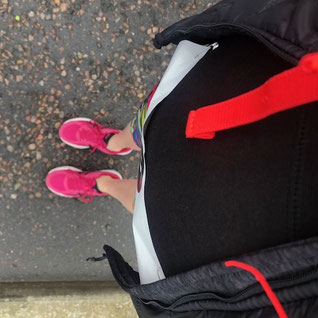 Over the past 23 weeks I've found a lot more information and support including reliable sources highlighting the brilliant benefits of keeping running.
According to the This Mum Runs website the benefits of running & walking in pregnancy include:
1. Reduced risk of varicose veins
2. Keeping excessive weight gain in check
3. Lowered risk of pre eclampsia
4. Reduced risk of gestational diabetes
5. Speeded up recovery time post birth
If you were already a runner prior to falling pregnant it's probably going to be okay to keep going in pregnancy. You should always check with your medical care team beforehand though and ensure you don't have any specific risks. The benefits above may be helpful if you are faced with negativity from anyone who means well but doesn't know much about running in pregnancy.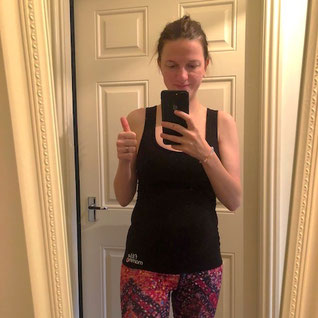 It's the second time being pregnant for me, beyond the first trimester, 6 years after the first time. In between I've experienced 2 miscarriages and lots of trying. Despite this I feel very different and positive about the benefits of running.
The miscarriage experiences definitely knoacked my confidence in the early stages of this pregnancy and I didn't run much at all during my first trimester. I kept walking and did some very short jogs but that was all. This felt right for me at the time and I urge you to follow your gut instinct and go with what feels right for you too. As my pregnancy has developed I've found my mindset has changed and my confidence has grown through the support i've felt from others. I know I will keep running for as long as I feel good about it.
I want to share my experience and tips for new mum-to-be runners who may be lacking support but want to keep running and need a friendly voice of encouragement.
I preface this with the fact that I am NOT a medical professional and you should speak to your midwife or doctor about your own pregnancy and consider any risk factors you might have before running.
This Blog post is for those who have been given the green light and want to keep going but may lack confidence. Here is what I've learned and found to be most helpful since I started running again in my second trimester.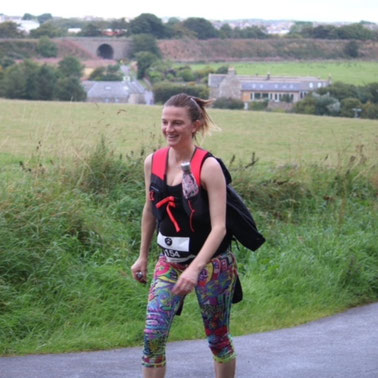 1. Seek advice from professionals and not those who're ill-informed
A mistake I made with my first pregnancy was paying too much attention to other people's opinions who didn't know what they were talking about. I'd get really paranoid when anyone said anything to me about running and I wasn't hugely supported by my midwife back then either. Although I started strong, running decent distances, I ended up pulling out of various runs and eventually stopped all together at 20 weeks. I was 6 years younger and more impressionable and easily influenced than I am today thankfully!!
Here is a great video to watch by the charity Tommy's with professionals and mums talking about their experiences of running during pregnancy.
Another useful resource is the This Mum Runs website. These guys are on a mission to dispel the myths associated with running in pregnancy. They also provide useful trimester based programmes to give women the confidence to keep moving during pregnancy.
2. Get the right sports gear 
I can not emphasis how crucial this has been for me. There aren't a huge amount of maternity sports wear brands that look and feel good but I was referred to FittaMamma by a fellow runner and I think they are amazing. You can see a review I did recently of their extra support running top here. The other item that's been vital for me is a SUPER supportive sports bra. Luckily I still had a good one from after my son was born. This holds me in really tightly and ensures the old boobs don't get sore. If you don't have one check out the FittaMamma website or Marks and Spencer, who have a cheaper version here.
3. Listen to your body
Remember that you don't have to prove yourself to anyone and trying to run the same distances or pace that you were doing pre-pregnancy is probably unrealistic.
This was definitely a factor that contributed to me stopping at 20 weeks during my first pregnancy. I felt frustrated that I was so much slower and felt heavier. This time round I'm enjoying the slower pace and accepting that my body needs to move at a different speed. If you don't feel your run is going well, just slow down and walk. It's okay to walk!! No one is going to come and tell you to hurry up. You're already doing an amazing job!!
4. Stay hydrated & don't get too hot
This is really important when running and pregnant. Pregnant women need to consume more water than usual. According to the Tommy's website you should aim for 6-8 200ml glasses per day and even more when you exercise. I've found running with a water bottle works really well so I'm not waiting until after a run to hydrate. I also drink 1-2 glasses before I head out. It's important to make sure you don't overheat as well. Check out the Tommy's video I shared above for more information/tips on this. When I run outside I wear a short sleeved vest top with a thin jacket layer on top that I can remove when I heat up. It's cooler in Scotland so I feel I need the jacket to start off with.
5. Seek inspiration from like minded people
It's easy to get paranoid and overly worry that you're doing something wrong and then take on board negative comments from others. The best remedy I've found is to join supportive communities of like minded people. I found the #pregnantrunner hashtag on Instagram to be full of inspiring mums to be. I'll preface that with, don't compare yourself!! Remember to go at your own pace and stick with distances you are comfortable with.
If you're not into social media you could join a local Park Run community. You will find other runners (even those who are not pregnant) can be very supportive and inclusive.
I'd love to hear about your experience of running or exercise during pregnancy? Did you find it a positive experience?
Thanks for reading.
Jo x