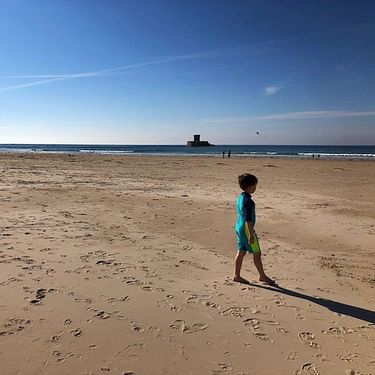 Welcome to October everyone,
I hope you enjoyed the last few weeks of September and this lovely sunshine in Scotland, which has now turned into rain.
I am excited for autumn and jumping into the third trimester of our pregnancy and finally meeting our little baby.
Today's Blog post is all about the wonderful island of Jersey, located near the Normandy coast in France. This was our baby moon (if you can still call it that when you already have a child). We loved exploring this little island as a family.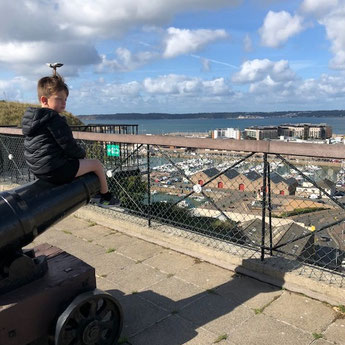 Background
As my mum's twin lives on the island, and has done for over 30 years, we were lucky to visit regularly as children. I have fond memories of the beaches, outdoor swimming pools and ice cream.
It has been 12 years since my last solo trip in my twenties and I was excited to return with my own little family to show them the places I visited as a child.
I'd always thought jersey was part of the UK but it is not and has an international identity separate from old Blighty. Jersey is a self governing parliamentary democracy under a constitutional monarchy, with it's own legal, financial and judicial systems. The United Kingdom is however responsible for the defence of Jersey. Many wealthy people move to the island for the various tax perks and I assume the tranquility and beauty of the place itself.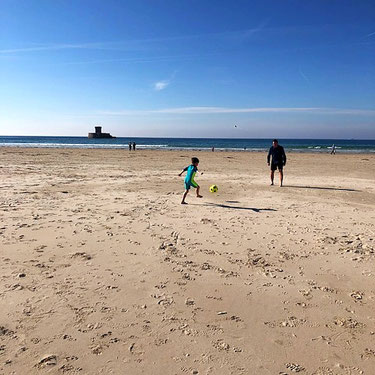 Why visit
I really don't know where to start here because there are so many reasons. Lets start with ease of access and travel from Scotland.
In the summer months you can fly direct from Aberdeen (where we live) and from October you can still fly from Aberdeen but you need to make one stop in Manchester or London. To avoid this faff, we flew direct from Glasgow via Easyjet and the flight took less than 1.5 hours. It was also very reasonably priced.
The climate is far warmer than Scotland and the rest of the UK as the island is 12 miles off the coast of France. We had 3 days where the temperature was in the mid twenties and the rest of the time it was late teens and early twenties.
The beaches are insanely beautiful, in particular St Ouens Bay, is a must visit with 3 miles of golden sand and shallow waters. It's perfect for kids.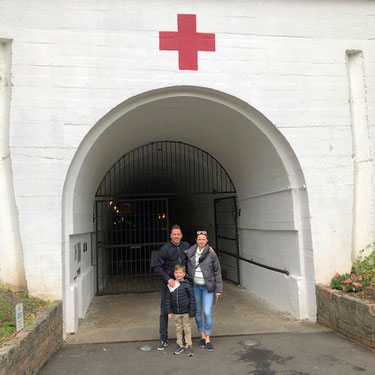 There's a lot of history on the island which my curious six year old enjoys as much as I do.
Our favourite experience was the Jersey War Tunnels, which were built by the Germans during their five year long occupation of the island in WW2.
They tell the story of the occupation and eventual liberation of the island. When you get your ticket you also get an identity card and have to locate the person on the card during your visit.
It's easy to get around and explore Jersey although I'd definitely recommend getting a car. With short distances between attractions you can cover a lot of the island with ease. There are 12 parishes named after Christian Saints and the whole island measures just 44.6 square miles.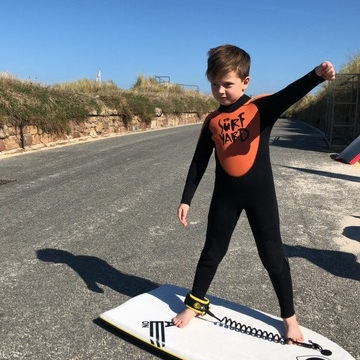 There are lots of activities for kids to enjoy.
We visited Tamba Country Park for silly golf and dinosaurs, the soft play at Fort Regent, which has views over St Helier waterfront and Aqua Splash in St Helier.
Our favourite spot was the beach at St Ouens where the boys tried body boarding.
We hired wet suits at the surf shop next to El Tico and took our own boards which my auntie lent us.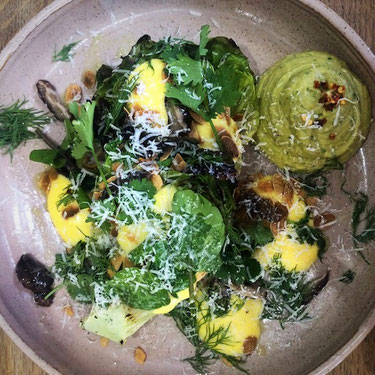 Veggie & Vegan Food
Under this heading I feel I really need to set the record straight!!! I was told in advance that Jersey was not good at veggie and vegan food and whilst I was there I met a fellow veggie who told me the exact same thing.
What I found was the opposite to be true. I generally do my research in advance of eating out, which makes things easier, but there were many occasions where I didn't. There were also times when others chose where we were eating and on every occasion I found it relatively easy to find something veggie or vegan to eat. I also found the menus to be very well labeled and sign posted.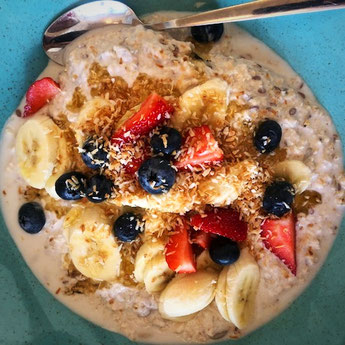 El Tico
This place was by far my favourite. It's set right in the middle of St Ouen's bay with views of the beautiful beach and sea.
It is a diner style restaurant with bench seating and surf boards decking the ceiling. The staff are really friendly and helpful and great with kids. The food is a mix of cuisine, from seafood, to salads, burgers and the most delicious, healthy breakfast options.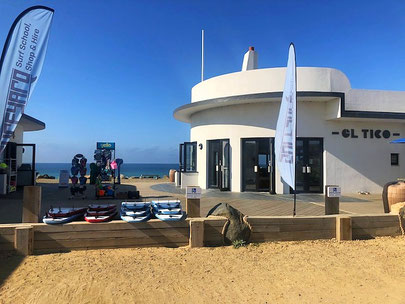 We went for breakfast the first time and I have to say the breakfast menu was my favourite.
I opted for the coconut overnight oats with seeds and berries. The bowl was ginormous and so creamy!! Even my prego appetite was suppressed until well after lunch time. I completely forgot about lunch that day because I was so full.
We liked El Tico so much we went back a few days later for lunch and we were equally as satisfied. Both myself and Mr Macdonald had the warm salad. My salad had a poached egg on top and his had chicken. Mr Junior had some garlic bread and corn on the cob as he wasn't too hungry.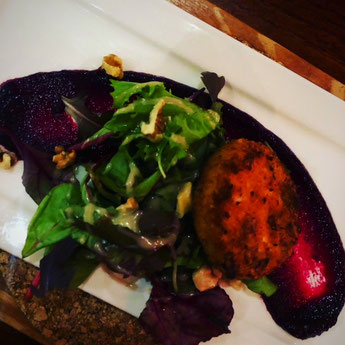 The Salty Dog
Aaand date night... This was our treat night to ourselves. When my uncle and aunt offered to babysit and let myself and Mr Macdonald go for dinner alone we were very excited!! My uncle recommended The Salty Dog in St Brelade's Bay.
It was right next to the harbour so we popped into The Waterfront bar beforehand so Mr Macdonald could have a drink. It was a little cold to sit outside but the views of the harbour were still fab from the inside.
The menu at the Salty Dog was good. There wasn't an overwhelmingly huge number of options and we went for the set menu which was £25 for three courses.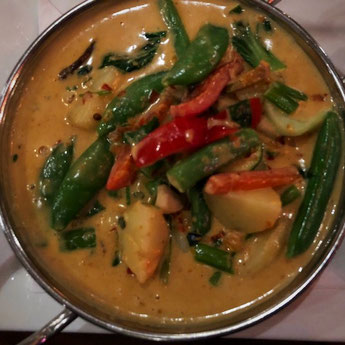 I opted for the baked, crusted goats cheese with beetroot salad and Mr Macdonald had a Thai prawn-style starter. We both chose the Penang curry for main course. I had my curry with veggies and Mr Mac had his with chicken.
By the end we were both so stuffed we literally had no room for dessert, despite the temptation of peanut butter and chocolate cheesecake and sticky toffee pud made with Jersey black butter, which I never had the chance to try.
Despite it being a week night, this little restaurant was packed to the gunnels. We were lucky to get a table as there were no spare seats by the time we left so I'd recommend booking if you do visit.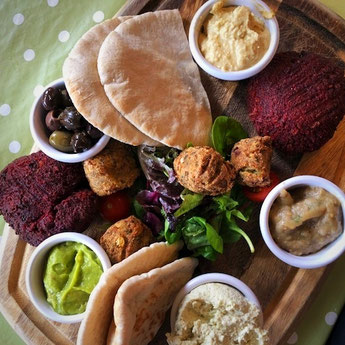 Ransoms Garden Centre
This place popped up on my Happy Cow app the day we visited Gorey, which is a cute little harbour village with a castle on top of the hill.
We popped into the village, walked up to the castle, got a coffee & some ice cream and headed to the garden centre because it looked like it would be a lovely spot for lunch.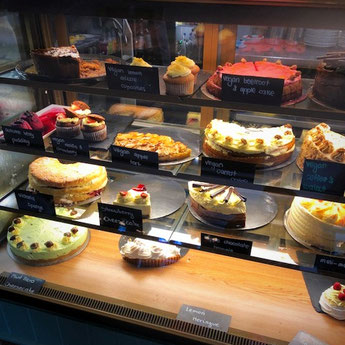 The menu was packed with clearly labelled vegan options and I was struggling to decide what I should eat.
In the end I opted for the mezze plate that included falafel, beetroot burgers, cashew cheese, guacamole and hummus. It was so delicious and filling, perfect for lunch.
We were full up afterwards so decided to get a take away of cakes. We got a mint aero cheesecake (non vegan) which the boys loved and 2 vegan/raw cakes, which I have to be honest and say, were not as delicious as they looked. I think I chose the wrong options and should have gone for one of the more traditional vegan cakes.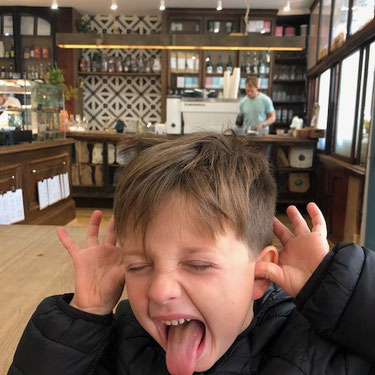 Locke's Stories
This place was a lucky find in St Helier, just off the main street. We were hungry and ventured down a side street looking for somewhere on my Happy Cow app, which we never found.
I loved the decor of this little coffee bar and brunch spot, which was perfect for all of us. It kind of reminded me of an old fashioned pharmacy inside with the glass front cabinets and coffee counter at the back.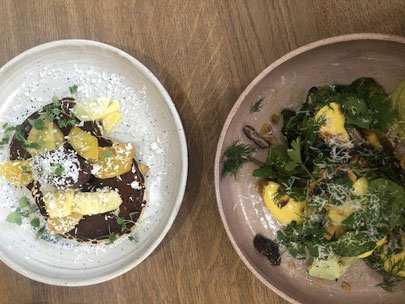 I opted for a warm salad with mushrooms, poached egg, guacamole hummus and hollandaise sauce and it was so yummy.
Mr small had poached egg and bacon with sour dough and Mr Macdonald had the buttermilk pancakes, which you can see here. The pancakes came with warm pineapple and coconut shavings and there was also a chocolate-type mousse. 
We all left feeling very satisfied!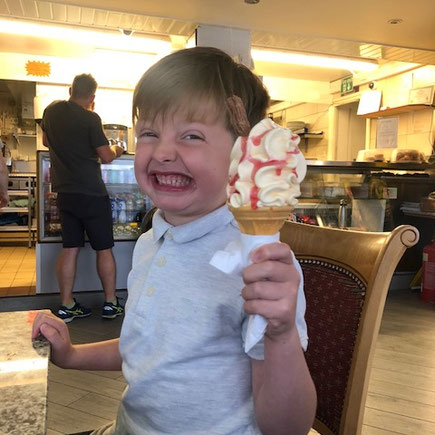 One last thing I can't omit is the ice cream. Apparently this was the best ice cream EVER which is made with Jersey cream.
Yes, it was the size of this dudes head but it tasted AMAZING!
The best ice cream spot is at St Catherine's harbour and it's a little cafe overlooking the sea.
Until next time Jersey, you definitely have a small piece of my heart!!
Have you ever visited Jersey or The Channel Islands before? What did you think?