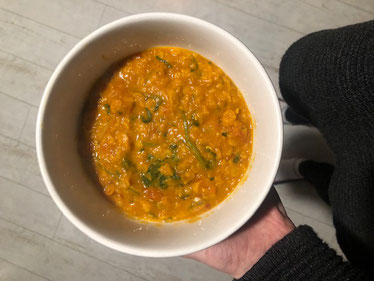 Good morning everyone,
It's been a whirlwind 8 weeks and I can't believe we are coming to the end of February.
Being a mum for the second time I've learned a lot in 8 weeks and in particular, how quickly time passes and how easy it is to forget about yourself and focus all your energy on your new baby.
There have been days when I've been glued to the sofa breastfeeding and struggled to find time for cooking any sort of meals.
I've learned to be more resourceful, make sure I am organised, stock my cupboards and fridge with healthy supplies that don't go off if I don't make that recipe I had planned.
I've been focusing on meals that need minimal preparation (less than 10 minutes) and can be left to their own devices to simmer on the hob or cook slowly in the oven.
I thought it might be helpful for other breastfeeding mums (or generally busy people) to share a few of the go-to recipes I've been using. Here are 3 super simple recipes for breakfast, lunch and dinner.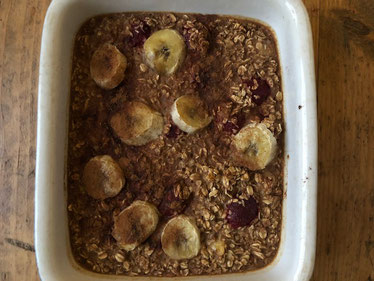 BAKED OATMEAL
1.5 bananas
1 cup raspberries
2 tsp cinnamon
2 cups whole rolled oats
2 cups milk of choice
2 dessert spoons maple syrup or honey
1. Mash one of the bananas in a bowl.
2. Add all other ingredients and mix well.
3. Pour mixture into an ovenrpoof dish and chop remaining half bananas and place on top.
4. Drizzle with maple syrup or honey & more cinnamon and place in the oven at 180 degrees for 15-20 mins.
5. You can also serve with coconut yoghurt or any yoghurt you prefer.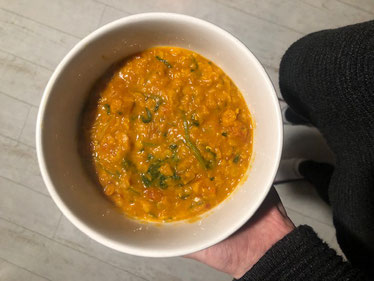 DELICIOUS DAHL
Coconut oil
Red lentils
1 can coconut milk
1 can chopped tomatoes
200g red lentils
400mls vegetable stock
Half a lemon
100g spinach
1/2 chilli
1 teaspoon ginger
3 cloves of garlic
2 small onions
garam masala
1 teaspoon turmeric
1 teaspoon cumin
1 teaspoon dried corriander
1 teaspoon mustard seeds
1. Chop onion, garlic and chilli.
2. Add a little oil into a large pan and place your chopped onion, garlic and chilli into the pan and sizzle for five minutes.
3. Add all the spices and fry for a few minutes more.
4. Add lentils and fry for a minute.
5. Add tomato, coconut milk and vegetable stock
6. Simmer for 15-20 minutes or until lentils are cooked.
7. Add spinach and stir in lemon juice
8. Serve with brown rice, on a bed of spinach or with nan bread.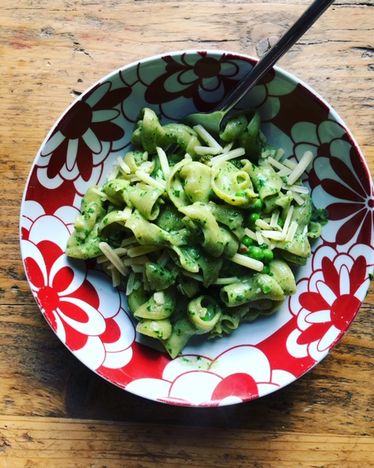 MIDWEEK GREENS PASTA
200g pasta (I use brown rice pasta)
1 cup frozen peas
300 mls oat or almond milk
1 chopped courgette
100g fresh spinach (or use frozen)
2 cloves garlic
Nutritional yeast or parmesan
Salt & Pepper
1. Boil pasta as per pack.
2. In a small saucepan heat your milk and add your spinach and garlic and simmer for 5 minutes.
3. Remove from heat & add nutritional yeast or parmesan and blitz with a hand blender.
4. In a frying pan add a little oil and fry your frozen peas and chopped courgette and fry for 5 minutes.
5. Drain pasta and return to pan, pour in your greens sauce and add peas and courgette. Stir mixture until all pasta is coated.
6. Top with more nutritional yeast or parmesan.
This is an adaptation of a Deliciouly Ella recipe which I think is a great way of getting a daily dose of greens.
Have you got any quick recipes you resort to when you haven't got much time?