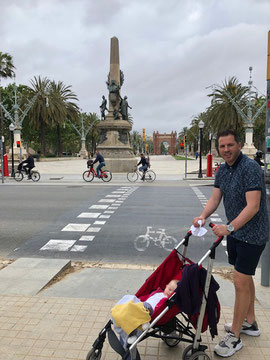 With family....
I have always loved and preferred city breaks to relaxing holidays where you lie on the beach or at the pool. This is partly because I love history and exploring and also because I get flustered in the heat and I have ants in my pants!
When my husband added a Barcelona game at Neu Camp to his 40th year bucket list I was more than a little bit excited and it wasn't because of the football!!
We knew we'd have a second munchkin in tow when we booked the trip and I was a little apprehensive. We travelled with our first born at the same age (4/5 months) so we had some confidence it would be okay, but it's always a little nerve wracking traveling with a baby.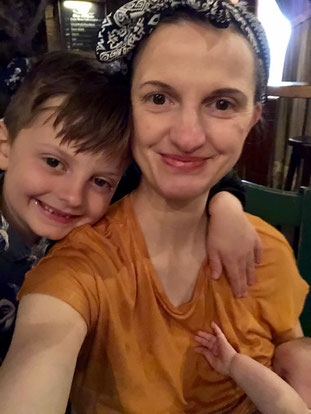 I did wonder if we'd feel we were missing out on the site seeing in a vibrant city with two kids but the age of our two made it easier to achieve all the things we wanted to.
We had one 6, nearly 7 year old, who could walk everywhere and is enthusiastic about learning and we had one baby who was 4 months old and hasn't started weaning yet. She is also still confined to a buggy.
I made a condensed list of fabulous eateries I wanted to explore and places to go with the kids. We packed our bags and 4 grandparents and hoped for the best.
This blog post is a combination of what we did and some of the places we ate.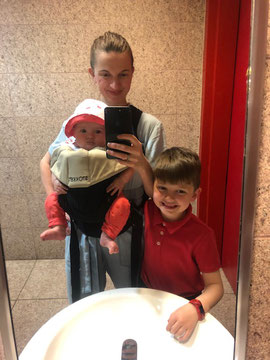 GETTING THERE
We booked our flights from Aberdeen through British Airways via London because we always try our best to use BA (and collect points) where we can.
I find they are generally reliable, which was important when traveling with two kiddos for the first time.
I like to research and book hotels/flights separately because it usually works out cheaper. We found our hotel on Bookings.com but we booked directly through them because it was cheaper.  It's always worth checking this out because sometimes hotels have special offers that don't come up on boooking sites. You can check out the SB Icaria hotel where we stayed here.
It was a really good option with kids. The staff were friendly and there was an outdoor pool and hot tub. The pool wasn't heated when we visited in April but that didn't stop the 6 year old!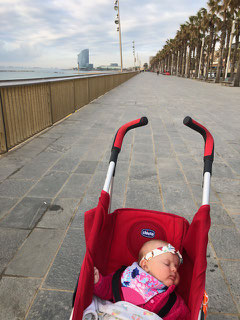 It was a stone throw from the beach, but without the hefty prices of the beachfront hotels, so it was a winner. We all agreed we would stay there again.
For those who are interested, we got a family room which included breakfast and they threw in a travel cot for free.
The breakfast was an impressive mix of cooked and continental food with as much tea/coffee as required to get those match stick eyes open wide. They also had doughnuts and cake on offer which pleased the 6 year old.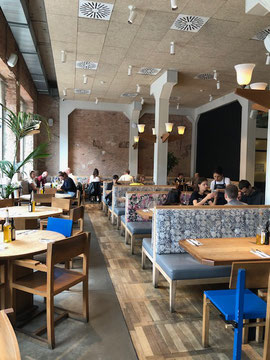 WHERE WE ATE
With 3 generations on our trip there was a mix of dietary needs and desires, which could have been stressful in some cities, but not in Barcelona. There were so many options and always something for everyone.
With Tapas available EVERYWHERE there was ALWAYS something to suit, even if that was copious rounds of potato bravas and tomato bread. When on holiday chips every day are fully acceptable right?!
I won't highlight everywhere we ate because there were so many wonderful places but my favourites are the places I'd go back to when we return.
Barcelona is a Mecca for food lovers and it's especially amazing if you eat a plant based diet because of the variety of places that specialise in vegan and vegetarian food.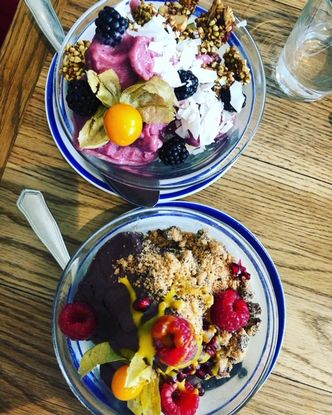 FLAX & KALE
I have to start with Flax & Kale because it literally blew my tiny mind, not just the food, but the building, the service, the organisation of the service and the menu. I spent most of my visit watching the pass area where all the food was prepared and promptly moved to eager diners!
I found the restaurant, which you can check here, on Instagram. Their colourful plates drew me in immediately and I knew we had to go.
There are 3 Flax and Kale sites, so make sure you enter Carrer del Tallers into your map if you want to visit this one.
I like their philosophy because they cater for a variety of dietary needs and desires, describing themselves as 'the first healthy flexitarian restaurant in Barcelona'.  There was definitely a bias towards vegan dishes when I examined the menu, with 80% of their food being plant based. There didn't seem to be any red meat or chicken but various options that included fish.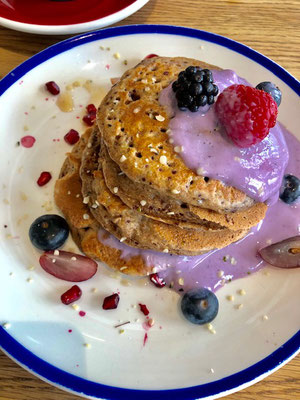 We visited twice during our trip and both times we loved it.
The first time I had one of their Pink Pitaya smoothie bowls with raw granola and fruit. I also chose a cold pressed cashew and cacao drink and a flat white. My husband went for their avocado on toast with egg and some awesome seedy bread. He also had one of their juices that he loved.
Our second visit entailed another smoothie bowl with cacao, hazelnut crumble and a cashew drizzle. I also shared the buckwheat and blueberry pancakes with my son and a cafe con leche because what's life without coffee?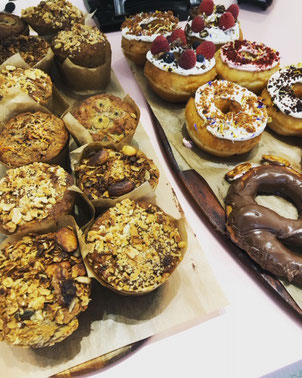 VEGAN BOWLS OF BARCELONA
This was another little gem, which I came across on instagram when I searched the Barcelona hashtag.
It's in the same little street as Flax and Kale, so I made sure I left room for cake after brunch. Their doughnuts were amazing but I chose a granola muffin, which was delicious.
I love cakes with bits in them. Give me all the nuts and dried fruit, and it was super moist too.
My husband chose one of their carrot cake doughnuts, which was a plain large doughnut ring with carrot cake flavour icing. I think the icing was made with cashews and it was very nice, light and sweet.
They also offered more substantial bowls and savoury food but as it had more of a take away vibe (with limited seating) we opted for cake.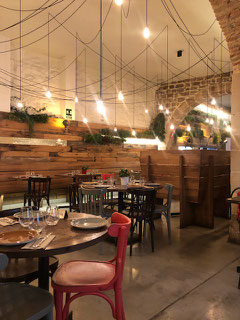 LA BONA SORT
This little beauty came up on Trip Advisor as one of the top recommended Tapas restaurants in the Gothic area of Barcelona. Check it out here.
My husband and I explored the cobbled streets of El Born earlier in the day and scowered the menu in advance.
The restaurant was slightly off the beaten track and sat within a pedestrianised area. It was modern but had all the classic tapas and enough options for our diverse party of 6 adults and 1 eating-age child!!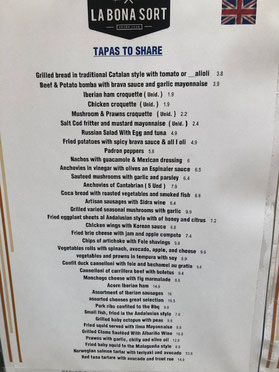 We opted for 4 different tapas dishes to share, which were a mix of meat, fish and vegetarian. 
I went for a salad as my main course. After experiencing so many dinners where we over indulged on the tapas and didn't have much room left for main course I decided to play it safe.
I finished up with a cheeky and devilish treat of an expresso martini. It was amazing!!
After dinner we had a short walk to find a taxi. There was a main road about a five minute walk away.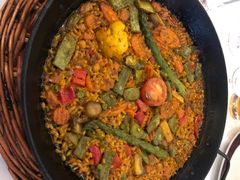 WHAT TO DO & WHAT NOT TO DO
Don't dive into the first restaurant at the harbour, where they will lure you in, with promises of amazing Paella. It will be yummy but at a caviar price.
You'll end up paying handsomly. We made this mistake on our first night and paid 3 times what we subsequently paid any night of our trip.
Don't pay for the tourist bus. It's 30 euros per person for the day, it's slow and packed. We had to wait for 2 buses to pass before we got on and there were no seats upstairs. There's no actual tour guide on board. There are free headphones to listen to a guided talk but none of ours worked properly.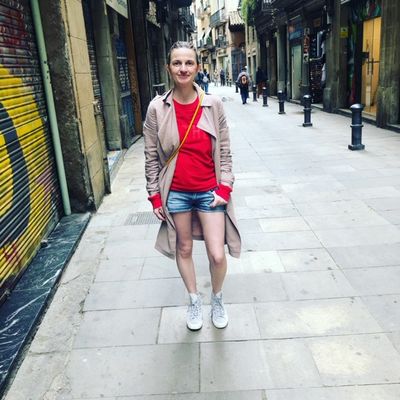 Do walk. Barcelona is an extremely walkable city and all you need is a map or your iphone. There's so much more to see when you walk (remember to look up) and explore the little streets that are off the main tourist track. We especially liked Barceloneta and El Born.
Do run. If you're a runner Barcelona is an amazing place to run especially along the beach front. There is so much to watch as you run. Early morning is the perfect time as the streets are quiet, there are less bikes to dodge and everyone is setting up for the day. You get a glimpse into real life in the city and people who are going about their business.
Do research. If you are a group and want to ensure a good meal have a look online and you'll find lots of recommendations. I like to choose an area and then search for places within that area. The Happy Cow app is helpful if you eat a plant based diet or would like a place with vegetarian/vegan options.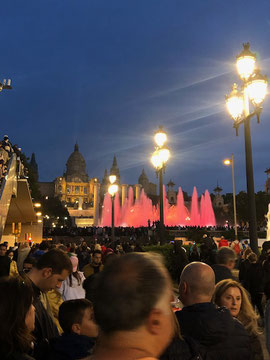 Do visit the Magic Fountain. This is probably the only FREE attraction apart from walking the streets and looking at the buildings.
The Fountain was designed in 1929 for the Universal Exhibition and restored in 1992 for the Olympics. The fountain spews cascades of water and light in an inspiring show which is set to music. It's very busy so leave plenty of time to find a spot with a good view.
The show times vary depending on the season but they are all in the evening, so it's worth arriving early and grabbing a bite to eat before heading to the show.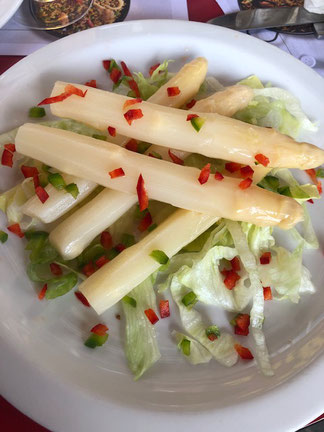 Check the times in advance here.
Don't order loads of bowls of Tapas and a big main meal. Ask your waitor for recommendations or trust your instinct about how much to order because we over ordered many times.
My favourite tapas was definitely the giant asparagus with garlic dip. I preferred it when they came warm but cold and warm were both good. Also, anything with aubergine and the potato bravas were obviously a favourite and we ordered these every night.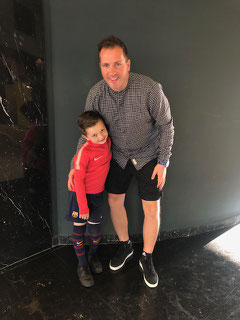 Do plan your football ticket strategy. I won't bore you with the saga of getting tickets for the Barca v Levante game but lets just say it wasn't an easy or stress free process.
It was made more challenging attending with a child because the website couldn't guarantee seats together and they only release tickets a few days before the match.
You will pay extra for tickets if you want to ensure you sit together as a group. Go to Neu Camp to purchase them and don't be fooled by promises of their availability at the offical store near Las Ramblas.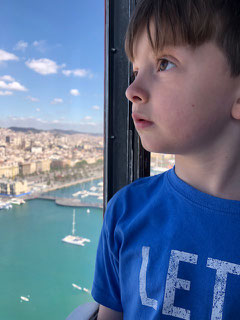 Do take a trip on the cable car. The views are amazing. It's not cheap but we got a one way ticket from the Port (Transbordador cable car), across the harbour. This is different to the Montjuic cable car, which stops at Montjuic Castle.
The journey begins with a lift to the top of the cable car tower. This is probably not recommended for those with a fear of heights. At the top you are ushered into the cable car, which holds a maximum of 20 people. It was a little cramped if you're claustrophobic but the views are worth it.
There was a small queue when we got to the top and we waited approx 20 miuntes for the cable car to arrive. Don't panic about needing the loo! There is a toilet at the top of the tower for those who feel nervous about heights or for an emergency poopy nappy!!
The crossing takes about 8 minutes in total and you will get a complete bird's eye view of the city.
It was an interesting descent at the other side of the hill with a buggy but we managed. I'd suggest planning your descent because we didn't and I'm sure there was an easier route down.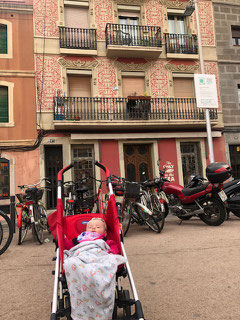 I think I speak for all of us when I say we had an amazing time and Barcelona really was a great city with children.
Our trip has inspired me to look into more city breaks and I definitely want to return to Barcelona and try more fabulous eateries and sights in the city.
Have you ever visited Barcelona.
What was your favourite thing to do?
Are there any cities in Europe you'd recommend with kids?