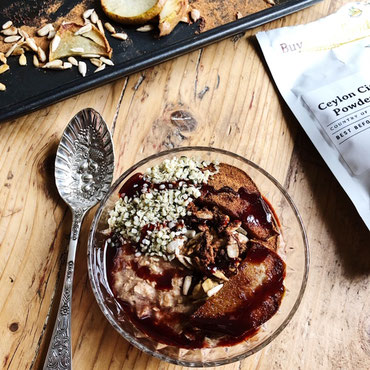 Hello and welcome to September's Blog post.
Thank you so much for taking the time to visit and read my musings.
As it's officially autumn here in Scotland I thought I'd talk about my all time favourite spice... Cinnamon.
It's something I've loved ever since I was a child. I think it started with the sweet cinnamon toast crunch cereal I used to scoff down before school. I LOVED this stuff as a kid and the taste has stayed with me ever since.
I add cinnamon to everything now (savoury and sweet). I was recently gifted some very special Ceylon cinnamon, among other things, from Buy Wholefoods Online so I decided to share a few cinnamon-inspired recipes.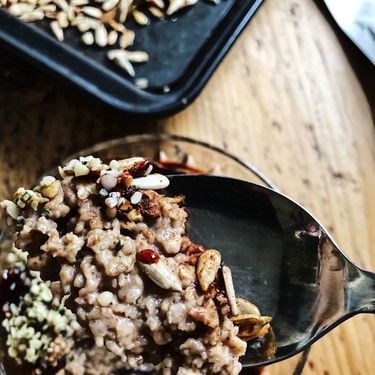 Cinnamon doesn't just taste amazing, it's warm and comforting but it also has some pretty awesome health benefits.
It's a spice that is obtained from the inner bark of several tree species from the genus Cinnamomum.
Ceylon cinnamon has a light yet warming flavour sensation and it's the purest type of cinnamon you can buy. It is possible to differentiate Ceylon cinnamon from the others as it's softer and lighter in color.
You can definitely taste and smell the difference between ceylon cinnamon and the supermarket spice kept in most households.
Ceylon cinnamon or "true" cinnamon is believed to contain anti-inflammatory, antioxidant and antimicrobial properties and may support your immune system.
Cinnamon has also been talked about as a treatment for diabetes. The role of cinnamon in regulating the glucose levels in the body has been implied in numerous small randomized control trials as discussed in this article. 
Lets get cracking with the recipes. I've linked the gifted store cupboard items below so you can see them directly on Buy Wholefoods Online website.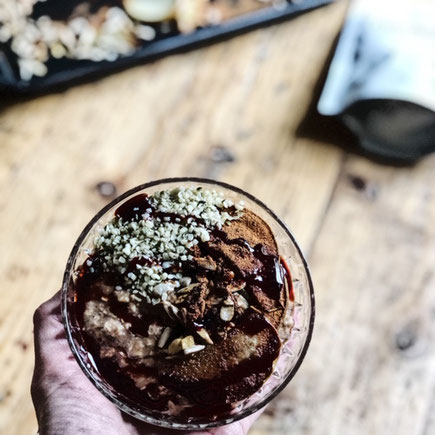 Sweet baked pears and creamy cinnamon spice porridge
This is an autumn inspired porridge recipe. I don't know about you but I love a warming bowl of oats at this time of year and what better combination than pears and cinnamon? You can also save any left over pear for later and serve with creamy yoghurt.
Ingredients
2 pears
1 teaspoon Ceylon cinnamon for pears and sunflower seeds
1 teaspoon cinnamon for oats
3 dessert spoons organic sunflower seeds
30g Oats
1 cup oat milk
drizzle date syrup
1 dessert spoon organic dried cranberries
1 heaped tsp organic shelled hemp seeds
Method
Chop & peel your pears and place on a baking tray with the sunflower seeds.
Drizzle a generous amount of honey or date syrup over the top and plenty of cinnamon.
Bake in the oven for 20 mins at 180 degrees.
In the meantime prepare your oats on the hob.
Place oats, cranberries, cinnamon and oat milk into a pan and simmer until you get the desired consistency. I like thick porridge but you may prefer it more runny.
Place your cooked oats into a bowl and assemble with pears and sunflower seeds, more cinnamon if desired and some hemp seeds.
You can store any left over sunflower seeds to snack on later or use at another point.
Hemp seeds are something I've wanted to try for a while. I read about their health benefits but hadn't got round to trying them, so I was delighted when Buy Wholefoods Online said they'd send me some of these too.
Hemp seeds are a great source of protein, which is something I need plenty of at the moment with my marathon training. They are easy to consume and have over 50% more protein than chia seeds. They're also high in fibre, full of vitamins and minerals and rich in fatty acids too.
These hemp seeds have a creamy texture. They taste a little similar to sunflower seeds but they're softer and mix more easily into porridge or smoothies.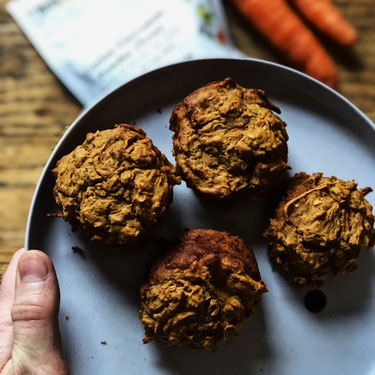 Carrot and cinnamon spice muffins
I've always loved carrot cake and I started experimenting with various types of carrot and other vegetable muffins whilst weaning my little one. These are super simple and quick to make and full of nutritious ingredients. This recipe makes 4-6 muffins.
Ingredients
1 large grated carrot
1 egg
2 dessert spoons GF self raising flour
2 dessert spoons oats
1/2 teaspoon GF baking powder
1 teaspoon Ceylon cinnamon
1 dessert spoon sunflower seeds (optional)
Splash of oat milk
1/2 mashed banana
1 dessert spoon date syrup (optional)
Method
Grate carrot into a bowl and mash banana into carrot.
Add egg, flour, oats, baking powder, cinnamon, date syrup and mix with a spoon.
Add sunflower seeds and a splash of milk if needed to create a thick cake batter type consistency.
Line muffin tins with a little coconut oil and spoon in mixture.
Place in an oven at 180 degrees for 15-20 minutes.
If you're making this for a weaning baby leave out the sunflower seeds and depending on your preference, you may want to leave out the date syrup.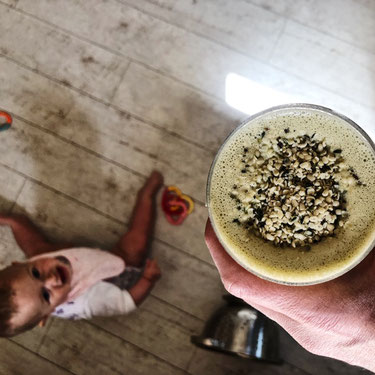 Figgy Cinnamon Smoothie
I regularly add cinnamon to my smoothies and I like to try different combinations and flavours. I saw some figs in the super market recently and decided to try out a new smoothie, combining figs and cinnamon together.
Ingredients
1 scoop vanilla protein powder
A cup of oat milk
A large handful of spinach
2 fresh baked figs
1 sticky date
1 teaspoon Ceylon cinnamon
1/2 a banana
A handful of ice
Splash of water
1 tsp shelled hemp seeds
Method
Place all the ingredients (apart from the hemp seeds) into a blender and blend until smooth. Pour into a glass and sprinkle hemp seeds on top.
What is your favourite way to use cinnamon?