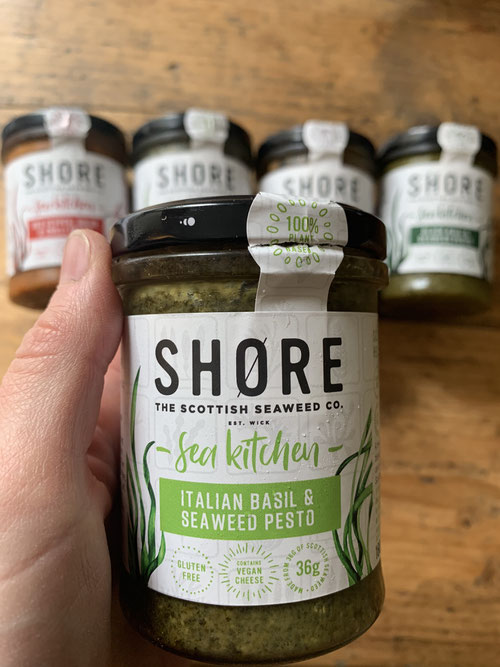 I am so excited to share this post as I've LOVED trying out these new pestos and tapenades from Shore Seaweed Company.
They immediately appealed to me because I love food that's flavourful and can quickly brighten up a dish and make cooking easy peasy for everyone, whether you're a keen home chef or not.
Anyone who's been around a while will know I love nothing more than trying and sharing new foods I love.
I set myself some really specific values when I started being approached by brands. I wrote them down and was very clear with myself that I would only share products and brands that I truly enjoy, would eat and use myself at home and fitted into my ethos with cooking. They had to be vegan, cruelty free and at least working towards a more sustainable future. Shore is most definitely one of these brands.
I first came across Shore crisps in Foodstory Cafe in Aberdeen. I always get tempted by new products at the till or in the refill shop upstairs and as I was leaving one day I bought myself a bag of Shore crisps.
I was attracted to the packaging and the word seaweed across the top. I didn't even realise they were a scottish company to begin with but I loved the taste.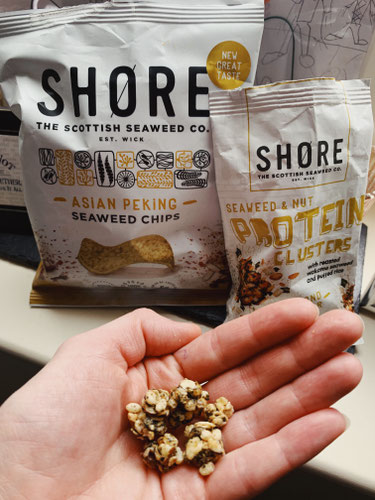 Shore are growers, harvestors and processors of seaweed. They are working towards making seaweed a sustainable plant-based food for the future.
Seaweed is nutritious and can be super tasty and best of all, Shore is a SCOTTISH company harvesting their 100% sustainable, premium seaweed off the coast of Wick in the North of Scotland since 2016. They handpick their seaweed all year round before taking it back to their nearby factory for washing and drying.
There are various health benefits associated with seaweed, which is bursting with minerals and antioxidants. It's a great way of boosting your diet with protein, fibre, magnesium, calcium, iron and iodine.
Shore products are all 100% plant based, non GMO and palm oil free.
If you already love the sound of this, wait until you taste their products!!
I'm going to be focusing on their tapenades and pestos here but they also make Seaweed chips and clusters. I loved the taste of them all and I have shared more about the clusters and chips over on my Instagram TV @joshealthycupboard so go and check that out too.
The almond butter clusters were my favourite as they are a little sweeter than the other flavours, which you can check out here and the lightly salted chips (pictured below) were my second favourite. See the other chip flavours here.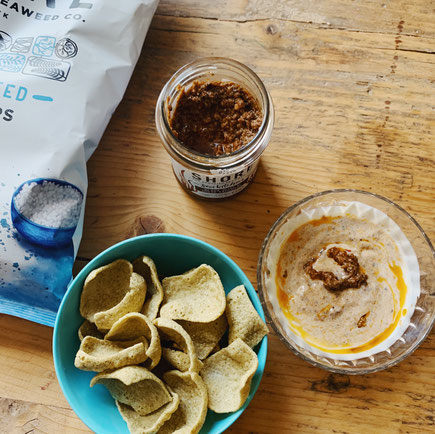 SHORE CHIPS & DIP WITH BLACK OLIVE AND DULSE TAPENADE
What you need
A big bag of Shore lightly salted chips
2 dessert spoons of tapenade
2 dessert spoons of yoghurt of choice
Salt
Pepper
Method
1. Mix all ingredients together in a bow.
2. Serve up with your favourite Shore crisps and some chopped veg.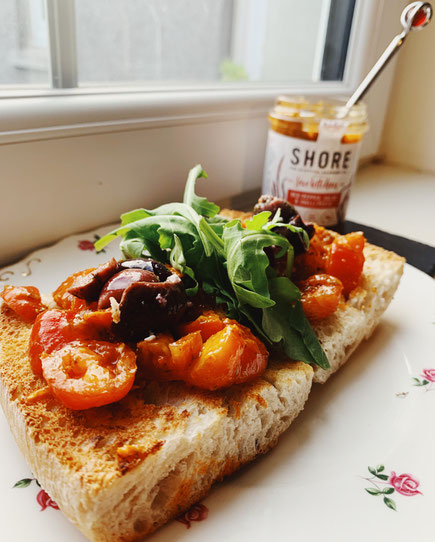 STUFF ON TOAST WITH RED PEPPER, DULSE & CHILLI PESTO
This was my ultimate favourite pesto. It was so rich with red pepper and tasty cheesy with the vegan cheese and a hint of seaweed which made it stand out from other pestos. The taste was unusual but not so different that it was offputting.
What you need
4 Thick wedges of bread - we used ciabatta
Shore Pesto
150g cherry tomatoes
Salt
Rocket
Olives
Garlic
Olive oil or rapeseed oil
Method
1. Chop the tomatoes and add to a small bowl.
2. Sprinkle with salt and drizzle with a little olive oil.
3. Add half a teaspoon chopped garlic.
4. Add 1 loaded dessert spoon of Shore pesto.
5. Mix it all together in the bowl.
6. Toast your bread in the grill or toaster.
7. Spread the toasted bread with more of the pesto.
8. Layer your tomato mix on top and add some rocket and olives...
9. If you fancy add some mozarella or vegan cheese and place under the grill.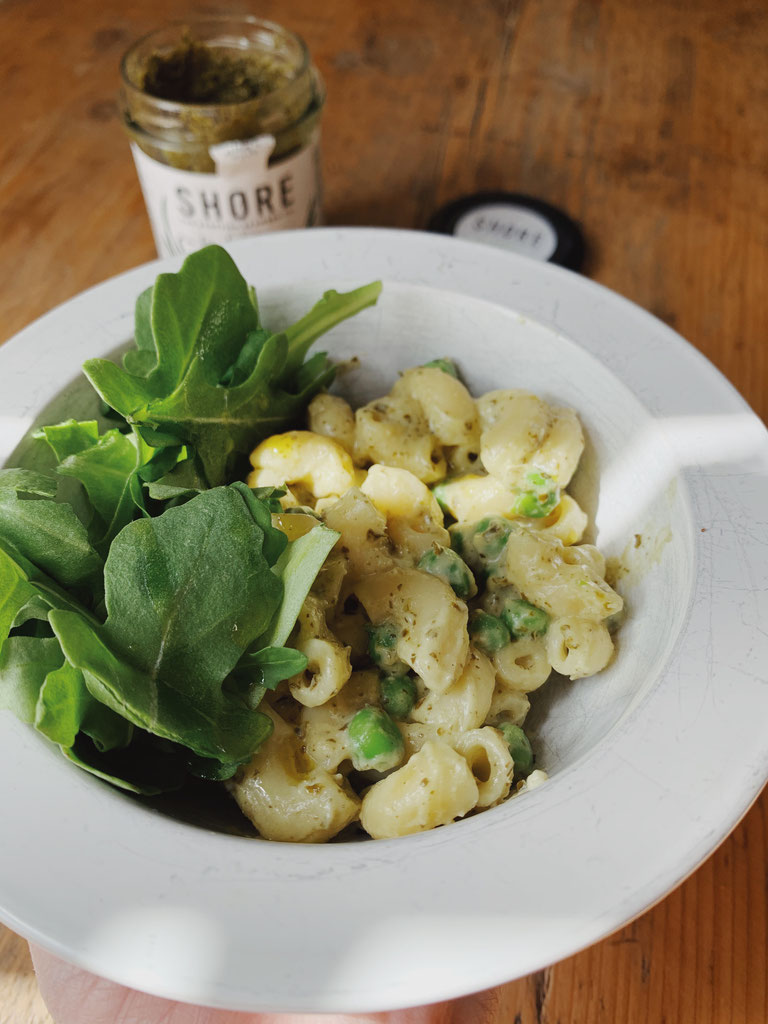 VEGAN MAC & CHEESE WITH BLACK KALE & SEAWEED PESTO
A close favourite for me was this green pesto. I absolutely love kale and the seaweed added a deeper flavour to the pesto. It was really delicious and went so well with the creaminess of the mac and cheese.
Ingredients
Shore black kale and seaweed pesto
200g macaroni pasta
1/4 cup (approx 40g cashew nuts)
1 cup plant milk (I used oat milk)
1 teaspoon miso paste
1/2 teaspoon mustard
1 heaped dessert spoon nutritional yeast
Squeeze of lemon
1/2 teaspoon garlic puree
Method
1. soak cashew nuts in boiling water for 20 minutes
2. Tip into a high speed blender with all the other ingredients (accept the pesto) and blend until completely smooth.
3. Cook macaroni according to pack instructions.
4. Boil some peas or throw them into the pan with the pasta as it's almost done.
5. Drain pasta and return to the pan with peas.
6. Pour the cashew cheese over the pasta and peas in the pan and return to the heat. Mix with a spoon for a few minutes until you notice the cheese sauce start to thicken. This last step is essential to thicken the sauce and make it nice and creamy.
7. Remove from heat and stir in a dessert spoon of Shore pesto.
8. Serve with some rocket or salad or choice.
I hope you enjoyed reading about The Shore Seaweed Company and their yummy range of products. You can purchase these from Amazon, Morrisons and the VeganKind Supermarket. They have a list of retailers here.
Do you like seaweed or have you tried Shore products before?
**The products used were gifted by Shore.