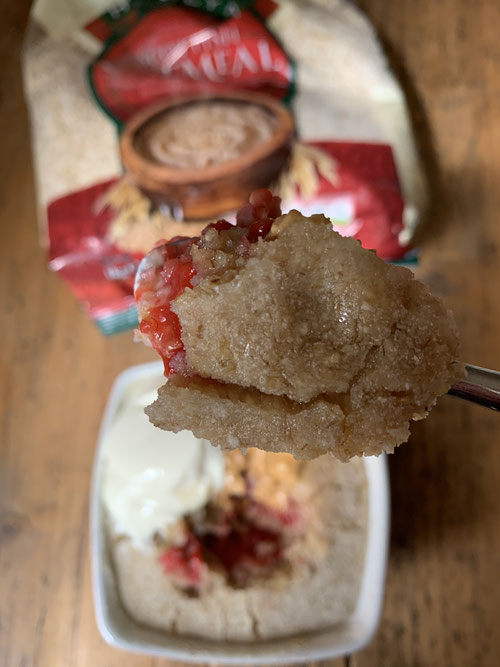 Happy month of May everyone.
It's  been a hot minute since I posted anything on here!!
I hope that you're all well and looking forward to the impending changes from  Monday in Scotland. I had my first dose of the Vaccine last week which I was not looking forward to but it wasn't as bad as I expected.
I'm feeling a change in mood and more positive overall knowing that things are easing more into normality. Although I don't think any of us remember what normality was like before so it's a new type of normal for most of us.
I thought I'd share a recipe today as I've been loving baked oatmeal recently and I've found a super quick and easy way to make it.
I've always loved baked oats BUT something that puts me off ordinarily is the time it takes to bake them. I don't know about you but when I'm hungry I AM HUNGRY and can't wait. That 20-30 minutes is just too much, so I thought I'd try using the microwave for baking the oats.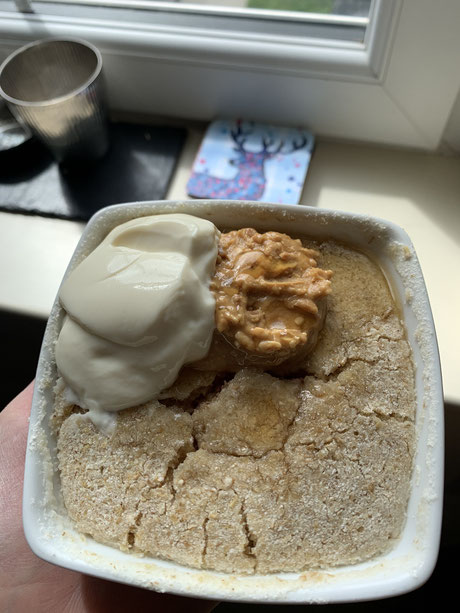 Low and behold it actually works and the usual 30 minute wait for baked oatmeal in the oven is cut down to 2 minutes in the microwave. 
There are many many flavours and combinations you can create with this recipe. Some of my favourites are apple and cinnamon, banana and chocolate and off course PB and 'jam' which is what I will be sharing in this post.
I decided to use oatmeal, as opposed to porridge oats, because this works a lot better, especially in the microwave. I find porridge oats just stay a bit soggy so make sure you use oatmeal if you're using the microwave. 
Ever since I did a little work with Hamlyns of Scotland over a year ago I've been buying their oatmeal religiously. I think it's the best I've used and it's extremely good value and available in most Scottish supermarkets. It's about £1.85 for a 1kg bag and that will make you 20 bowls of baked oatmeal using my recipe.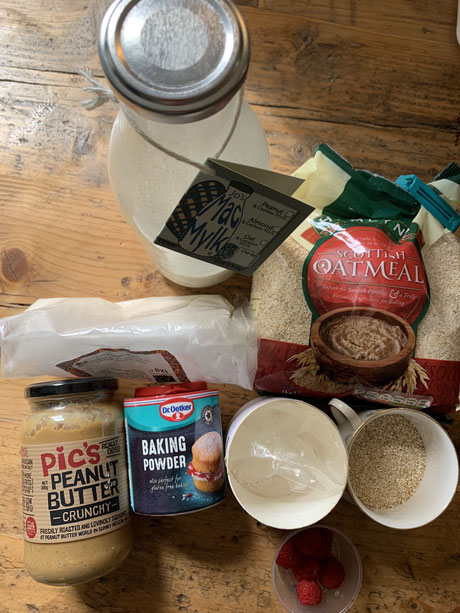 Ingredients
50g Hamlyns of Scotland oatmeal
1-2 large teaspoons peanut butter 
1 heaped teaspoon coconut flour
1/2 teaspoon baking powder
Pinch of salt
A small handful of raspberries or you could use raspberry jam. 
Peanut mylk (or any plant mylk) - I used my JO's MacMylk peanut milk to make it extra peanutty. If you don't have peanut mylk just add a teaspoon of peanut butter to the oat batter before you bake them.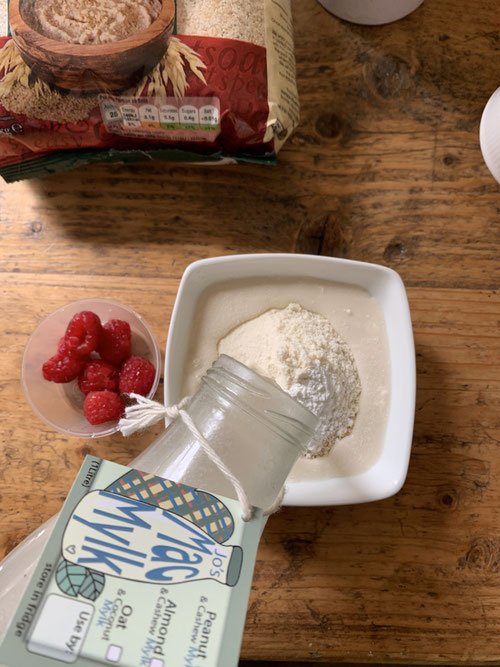 Instructions
1. Place oats, coconut flour, salt and baking powder into a small microwavable bowl.
2. Cover with your chosen milk and mix with a spoon until everything is mixed together. It should be a thick batter-like consistency.
3. Add 1 teaspoon of peanut butter (if you're not using peanut milk) and mix into batter.
4. Press your raspberries into the centre of the batter and cover over with a teaspoon.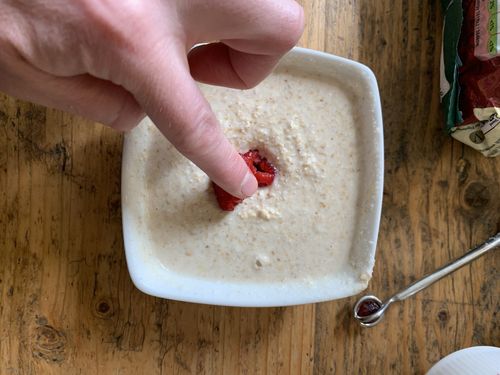 5. Place bowl into microwave for 90 seconds.
6. Open microwave door and check that there's been no overflow.
7. Place back in microwave for 30 seconds.
8. Remove and add toppings. I added 1 heaped teaspoon of peanut butter on top and some Alpro Greek-style yoghurt and Sweet Freedom syrup.
9. ENJOY!!!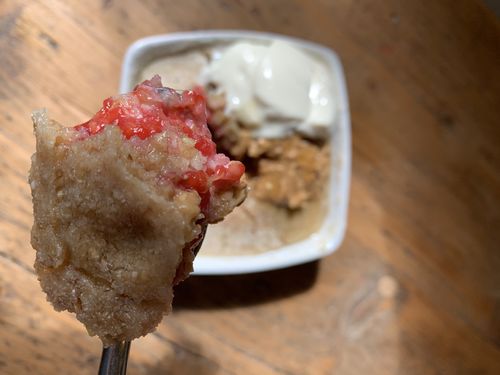 Have you tried baked oatmeal before? What's your favourite flavour? Let me know if you give this recipe a try.