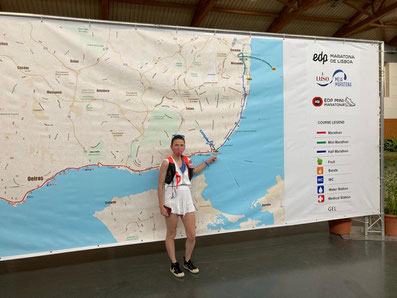 Here we are again in another month.
This time it's autumn and the leaves are falling from the trees. The colours are changing around us. The mornings are darker and the long days of summer appear to be behind us.
It's the time of year I have a love/hate relationship with. On the one hand I love cosy evenings in, the smell and taste of autumn: pumpkin spice, sweet potato soup, hearty curries and mulled wine. On the other hand, I feel a wave of sadness for the colder days and having to wear shoes that actually cover my feet, as well as dark mornings when I can't get out to run.
That's why it's the perfect time to get away for a sneaky bit of sunshine and warmth to ease into hardcore winter. 
Two years ago I signed up for Lisbon Marathon pre-Covid when I didn't know what was about to happen. Needless to say the world shut down and there was no marathon. I replaced Lisbon with Bennachie and hoped for a warmer run in 2021.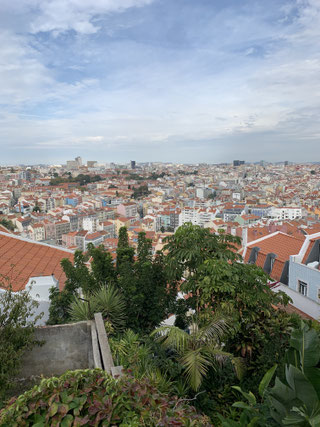 Lisbon is a city that appealed to me for it's culture and history, beautiful ceramic-fronted buildings and stunning views. I'd also read that Lisbon Marathon was The World's Most Beautiful Marathon.
I held off booking until the last minute because of uncertainty in the world of travel and what would happen BUT with only a month until marathon day I took the plunge and booked a package with British Airways.
As soon as the restrictions lifted and less testing was required flight prices increased quite quickly and the most reasonable way to travel was via a package that included hotel and flights together.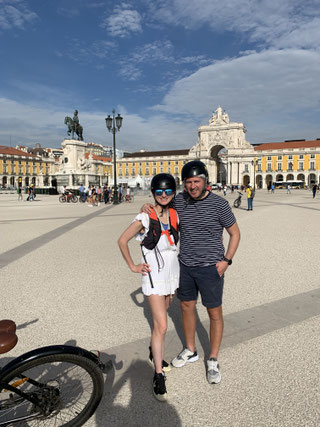 There's so much to say about this trip and beautiful Lisbon but I'll try and stick to the high points, places we visited and a little marathon chat on the side. I feel I've over shared that part already on social media, so I'll focus more about Lisbon here.
Here are my highlights...
1. An electric bike tour
Prior to  our trip I spent a little time researching Lisbon hot spots for culture. I knew we'd only have Saturday to do tourist activities because the chances were I'd be a bit broken on Sunday after the marathon.
Whilst I was googling I came across a 2.5 hour electric bike tour on a website called Viator.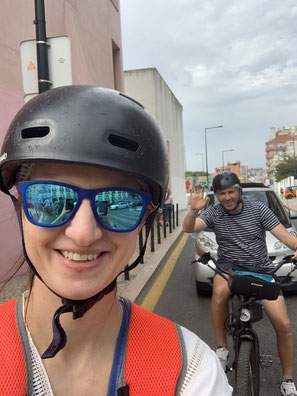 This seemed to be a great way  of incorporating lots of elements of the city without having to navigate for ourselves. It also saved my legs for marathon day! I was a little nervous about the bike part as I haven't been on a bike for years and never used an E-bike.
Our hotel was very central and the perfect spot for exploring, only a 10 minute walk to  the start of the bike tour.
We stayed at Hotel Mundial. I'm not sure I'd recommend it for a trip. There are various reasons for this but mainly the service and a lack of basic facilities such as an iron!
After a very quick breakfast with plenty of carbs, mainly bread, croissants and Portuguese cake, accompanied by LOADS of coffee for me, we were ready for the bike tour.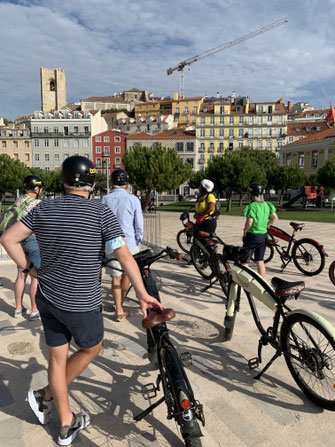 My husband and I both agreed this was the best part of the trip. Our guide was very friendly, extremely knowledgeable and helpful, waiting for everyone to catch up and get used to their bikes. It didn't feel like we were rushed at any point.
The bikes were extremely easy to operate and had very comfortable saddles. The motor was self explanatory but we did have it explained before we set off. The main thing I remembered from the  briefing was to keep peddling on the hills or the bike would switch off and become very heavy.
The traffic was quiet and we felt really safe at all times. My favourite stop was the first one in Commerce Square because it allowed me to see the finish line for the marathon and really visualise that ending.
I loved learning about the history of Lisbon and the architecture too. The cycle itself was not strenuous because of the motors and the distance was relatively short because much of the time was taken up stopping and meandering and listening to our guide. The whole experience was very relaxed and we both said we'd do a similar tour in the next city we visit.
2. A Vegan Restaurant 
I always research and book one fully vegan/veggie restaurant when we visit a new city. I try and find one that looks different to the type of place I'd visit at home. My husband is happy to join in (usually) as long as he gets to choose at other times. 
We do go with the flow on holiday but I often want to check reviews and make sure we're not heading for a tourist trap or somewhere terrible and when it's a vegan restaurant I like to check the menu and see if there's anything my husband will like. I created a list of vegan cafes and eventually we chose O Botonista. 
It was a beautiful little restaurant, which had lots of plants and simple interiors but we both felt slightly disappointed with the food and service. I personally would return and try something different from the menu but I'm pretty certain my husband would not!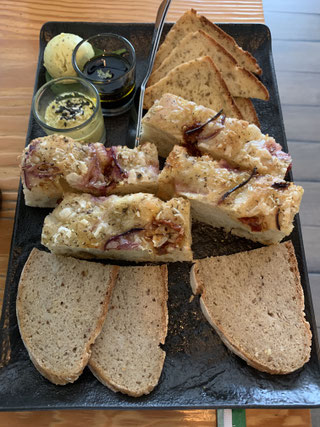 We ordered a bread plate to start with some pea hummus and vegan cheese to try. The bread had loads of flavour but was quite herby. I enjoyed the different tastes and textures of the bread and loved the pea hummus but found the vegan cheese a little oily. My husband wasn't keen on the bread plate.
For main course I ordered their most popular dish (according to the waitress) which was a sesame tofu thing, but I found it to be quite bland. There was not a lot of flavour despite all the colours. My husband ordered the Pad Thai, which I thought was absolutely delicious, packed with flavour. He didn't like it as much so I ate what was left of his too. It had lots of vegetables, whole peanuts and a really flavoursome peanut sauce with thick noodles.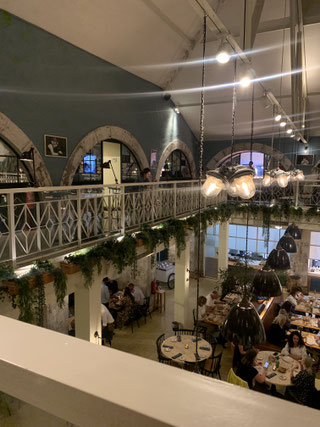 3. The best Pizza in Lisbon
After the disastrous lunch, my husband requested the best pizza in Lisbon for dinner!! Pizza is nearly always my post race dinner so I was on board with this request. Tough luck if I wasn't because it was his turn to choose!
Pizzeria Lisboa kept coming up on every google search about pizza in Lisbon. It had good reviews and it was relatively close to our hotel - a fifteen minute walk. I booked a table because it seemed like a very popular place. We arrived a little early and decided to sit outside until our table was ready. My husband ordered a beer and I asked for a coffee. I really wanted a glass of wine but I avoid alcohol for at least a week before a race and coffee is the next best thing for me!!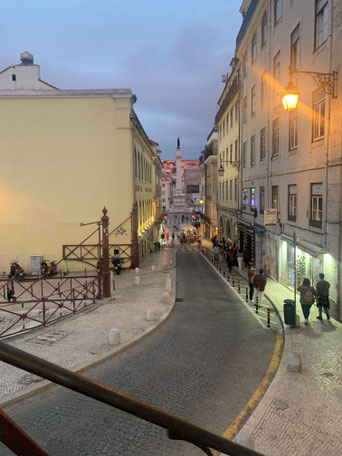 4. Wondering around Lisbon streets
After the marathon we were really keen to spend our afternoon wondering around the older parts of town and stopping in little bars and cafes to get a better feel for the city.
My legs hurt a LOT by this point and I had to lean on my husband for all the downhill parts of the walk. The downhill hurt a lot more than the uphill for some reason. 
We managed to navigate the hilly streets relatively easily as long as I had support. We stopped at one bar near Commerce Square and sat outside for a snack because it was about 4pm and we were getting hungry but wanted to wait a while for dinner.
We continued on, stopping at a little cafe and a few more bars on our way up the hill. I had a few Aperol Spritz and felt pretty merry after that! We eventually found a small restaurant with veggie burgers and regular burgers so we stopped there for dinner before heading back down the hill.
There are many high points in the old town where the views are spectacular. You can see so much of the city and the river from these spots and they weren't swarmed with tourists. I found the city to have a relatively laid back feel, unlike many big cities in Europe, which can feel claustrophobic around tourist spots. There was always space to breath and no wild queues. Perhaps picking October to visit was beneficial and the fact it was so soon after travel restrictions had lifted.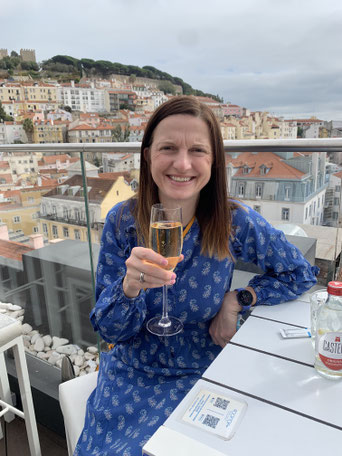 5. Champagne on a rooftop bar
I haven't mentioned our hotel much because there were several issues with it. I don't like to moan about the negative aspects because there were also several brilliant things about the hotel, which I would rather talk about.
The number one thing for me was the roof top bar. As a visitor in any city I always look for a rooftop bar or restaurant because I love getting a perspective of the city. There's something unique about viewing things from above, it's a different way of seeing things. This bar had a 360 degree view and it was stunning. It was a beautiful spot and the drinks were good too (a little more pricey). The food wasn't very diverse or veggie friendly so we only ate a few bar snacks. 
The vision I had of drinking a glass of champagne up here kept me going for the last 3 miles of my marathon and it felt amazing to actually celebrate after the run. It was also a great place to people watch with very glamorous people taking "insta pics".
My husband and I both agreed we wouldn't stay in the hotel again but we would revisit the rooftop bar on a future trip and recommend it to others.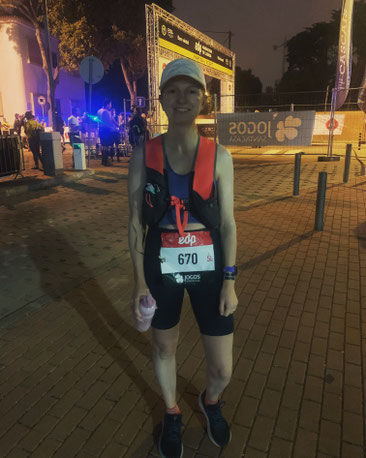 I hope I've covered the highlights of our trip and there was also the little bonus of running a PB marathon!!
I would love to go back to Lisbon for longer and I'd like to visit Porto too.
Have you been to Lisbon? What was your favourite thing about the city?
Did you try any Portuguese food?