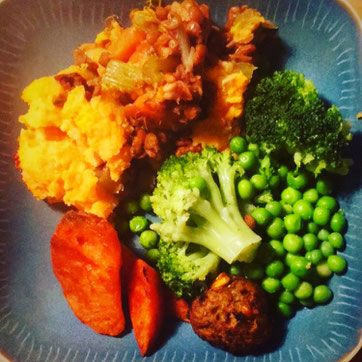 As it's now Tuesday and I'm thinking about what to make for the rest of this week, I thought I'd share 3 of my 'go-to' week night dinner recipes.
These are all plant based and tasty but nutritious dinners that I make on a regular basis. The shepherd's pie is also one that my son will eat (HALLELUJAH). Two of the recipes are from Jamie Oliver and the last one is from Deliciously Ella. I like these because they require some ingredients that overlap and you don't need loads of fancy things to make them. Without further ado....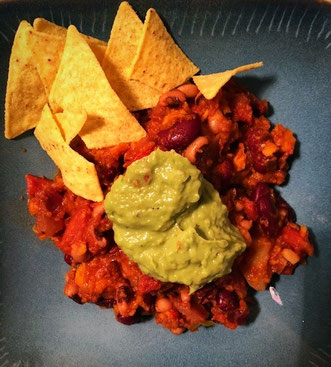 RECIPE 1: JAMIE OLIVER VEGETABLE CHILLI
I know this recipe off by heart as I've made it so many times. You could accompany it with rice but we prefer home-made nachos. These are made with tortillas cut up and baked in the oven. When I'm in a rush I use shop bought nachos as you can see from the picture. I often make a simple guacamole, which will be avocados and whatever else is in the fridge (chilli, lime, tomato etc) blitzed up. You can improvise with this recipe. If I only have normal potatoes I use them instead of sweet potatoes and if there's no coriander, I use the dry version. I will sub the kidney beans for other beans if there's something else in the cupboard.
Ingredients:
2 medium sweet potatoes (500g)
1 level teaspoon cayenne pepper , plus extra for sprinkling
1 heaped teaspoon ground cumin , plus extra for sprinkling
1 level teaspoon ground cinnamon , plus extra for sprinkling
olive oil
1 onion
1 red pepper
1 yellow pepper
2 cloves of garlic
1 bunch of fresh coriander
1 fresh red chilli
1 fresh green chilli
2 x 400 g tinned beans, such as kidney, chickpea, pinto, cannellini
2 x 400 g tins of quality plum tomatoes
Method:
Heat the oven to 200˚C/400˚F/gas 6.
Peel and chop the sweet potatoes into bite-sized chunks, then place onto a baking tray.
Sprinkle with a pinch each of cayenne, cumin, cinnamon, sea salt and black pepper, drizzle with oil then toss to coat. Roast for 40 minutes, or until golden and tender.
Peel and roughly chop the onion. Halve, deseed and roughly chop the peppers, then peel and finely chop the garlic.
Pick the coriander leaves, finely chopping the stalks. Deseed and finely chop the chillies.
Meanwhile, heat 2 tablespoons of oil in a large pan over a medium-high heat, add the onion, peppers and garlic, and cook for 5 minutes.
Add the coriander stalks, chilli and spices, and cook for a further 5 to 10 minutes, or until softened, stirring occasionally.
Drain and add the beans. Tip in the tomatoes, breaking them up with the back of a spoon, then stir well.
Bring to the boil, then reduce to medium-low and leave to tick away for 25 to 30 minutes, or until thickened and reduced – keep an eye on it, and add a splashes of water to loosen, if needed.
Stir the roasted sweet potato through the chilli with most of the coriander leaves, then taste and adjust the seasoning, if needed.
Scatter over the remaining coriander. Delicious served with soured cream, guacamole and rice or tortilla chips.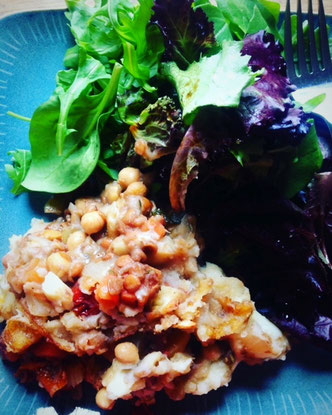 RECIPE 2: JAMIE OLIVER VEGAN SHEPHERD's PIE
This recipe is also flexible and I skip the things I don't have or replace with something else.
I don't think I've ever added the breadcrumbs and sometimes I use normal potatoes and other times, sweet potatoes or a mix of potato and carrot.
Ingredients:
600 g Maris Piper potatoes
600 g sweet potatoes
40 g dairy-free margarine
1 onion
2 carrots
3 cloves of garlic
2 sticks of celery
1 tablespoon coriander seeds
olive oil
½ a bunch of fresh thyme
350 g chestnut mushrooms
12 sun-dried tomatoes
2 tablespoons balsamic vinegar
vegan red wine
100 ml organic vegetable stock
1 x 400 g tin of lentils
1 x 400 g tin of chickpeas
5 sprigs of fresh flat-leaf parsley
2 sprigs of fresh rosemary
1 lemon
30 g fresh breadcrumbs
Method:
Preheat the oven to 200°C/400°F/gas 6.
Peel and chop all the potatoes into rough 2cm chunks. Place the Maris Pipers into a large pan of cold salted water over a medium heat. Bring to the boil, then simmer for 10 to 15 minutes, or until tender, adding the sweet potatoes after 5 minutes.
Drain and leave to steam dry, then return to the pan with the margarine and a pinch of sea salt and black pepper. Mash until smooth, then set aside.
Peel and finely slice the onion, carrots and 2 garlic cloves, then trim and finely slice the celery.
Bash the coriander seeds in a pestle and mortar until fine, then add it all to a medium pan over a medium heat with a good splash of oil. Pick in the thyme leaves, then cook for around 10 minutes, or until softened.
Meanwhile, roughly chop the mushrooms and sun-dried tomatoes, then add to the pan along with the vinegar and 2 tablespoons of the sun-dried tomato oil from the jar.
Cook for a further 10 minutes, then add a splash of wine, turn up the heat, and allow it to bubble away. Stir in the stock, lentils and chickpeas (juice and all), then leave it to tick away for 5 to 10 minutes, or until slightly thickened and reduced.
Pick and roughly chop the parsley leaves, then stir into the pan. Season to taste, then transfer to a baking dish (roughly 25cm x 30cm).
Spread the mash over the top, scuffing it up with the back of a spoon.
Finely slice the remaining garlic clove, then place into a bowl with the rosemary leaves, lemon zest, breadcrumbs and 1 tablespoon of oil. Mix well, sprinkle over the mash, then place in the hot oven for around 10 minutes, or until piping hot through.
Place under the grill for a further 2 to 3 minutes, or until golden, then serve with seasonal greens.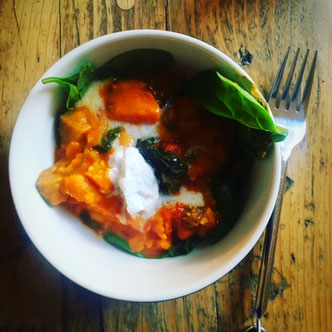 RECIPE 3: DELICIOUSLY ELLA SWEET POTATO STEW
I love this recipe because it's a one pan wonder, it's warm and a little bit spicy. It's yummy with rice or quinoa or on a bed of spinach. I leave out the aubergine on this one as my husband isn't a fan. Sometimes I sub with another vegetable such as courgette or carrot. I like to add a little coconut cream on top too.
Ingredients:
2 cans of tinned tomatoes (400ml each)
1 can of coconut milk
large sweet potatoes
2 aubergines
1 bag of spinach
1 can of chickpeas (400g)
4 tablespoons of tomato puree
4 tablespoons of apple cider vinegar
4 teaspoons of turmeric
Method:
1. Cut the sweet potato into small chunks, steam these for 15 minutes. Then chop the aubergine into bite sized pieces
2. Once the sweet potatoes have cooked put the tomato puree, vinegar, garlic, spices and salt in a pot with some olive oil, heat for a minute or two until they're bubbling
3. At this point add the coconut milk, tomatoes, aubergine, sweet potato, salt and pepper to the pot and allow it to heat until boiling
4. Allow the pot to cook for about forty five minutes, at which point add the drained chickpeas and spinach. Let these cook for fifteen minutes
5. Finely chop the coriander. Then serve the stew with brown rice or quinoa, and sprinkle the coriander on the top
What are your go-to meals that you cook all the time, things you don't even need to think about? I'm always looking for something to add to my week night dinner menu..
Happy Tuesday everyone.
Jo xx