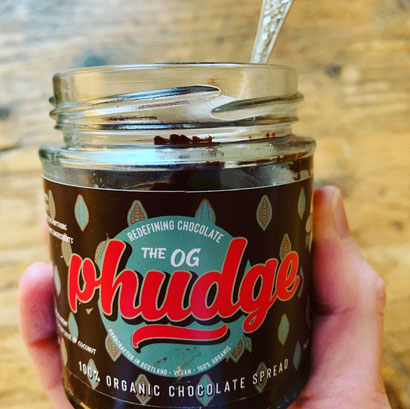 Hello February, the second month of the year with 28 days clear and 29 each leap year!!
It's hard to believe sitting here in freezing Scotland that in the Southern Hemisphere February is a summer month the equivalent of August. The month is named for the Latin word februum which means purification.
I'm not sure if this is connected with purification or any of the above but February is also the month of love and I can guarantee you will love these chocolatey delight recipes I've created using my favourite vegan spread.
If you like dark chocolate you are going to go crazy for this stuff. I first tried Phudge about a year ago when I bought a jar from the Hammerton Store in Aberdeen. Laterly I met Courtney, the creator of this delightful treat, who is based in nearby Aberdeenshire. She created Phudge from her brother's recipe that he developed during time spent in Costa Rica.
Phudge isn't your regular chocolate spread. It tastes of real, rich, raw chocolate and it is delicious. Best of all it's NOT packed full of sugar and other 'interesting' ingredients. The ingredients are 100% organic (coconut oil, coconut nectar, cacao powder and vanilla extract).

On it's own Phudge is delicious on toast or rice cakes, topped with banana or on top of porridge or coconut yoghurt, or you can try some of the recipes I've created below.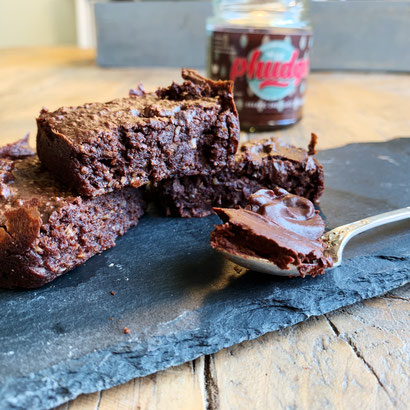 ALMOND CHOCOLATE BROWNIES
These are the most gooey, delicious little treats. I love coming up with variations on traditional recipes to see how the taste and texture differs. I especially like the challenge of making tasty recipes that are 100% plant based and use as many wholefood ingredients as possible.
Brownies aren't a new creation for me and they're something that you'll find in abundance if you google them but I like to improvise and use completely different ingredients to challenge myself. I normally make sweet potato brownies and have been recreating the same recipe for years so this one is something completely new.
For anyone who loves real chocolate, you will enjoy these. They're vegan and gluten free and sweetened with a little coconut sugar. They ended up with a nice crust on top but stayed soft and fluffy inside.
Ingredients
1 teacup ground almonds
1 teacup oats
1/2 teacup cashew nuts
2 dessert spoons cocoa or cacao powder
2 dessert spoons Phudge vegan chocolate spread
1 dessert spoon coconut sugar
1 banana
50 mls oat milk or other (more if needed)
1 dessert spoon rapeseed oil
Method
1. Pour ground almond, cashew nuts, oats, cocoa powder and coconut sugar into the food processor and blend until a fine crumb forms.
2. Melt Phudge slightly in the microwave (10 seconds) and add to the other ingredients, along with the rapeseed oil. Blitz all ingredients again until you have a very thick paste.
3. Pour mixture into a bowl and add your banana (mash it first) and your oat milk. Mix well into a thick batter-like consistency. Add more milk if needed.
4. Pour into a small baking tray or I used silicon moulds. This made 5/6 brownies.
5. Bake in the oven at 180 degrees for 15/20 minutes until firm to the touch but still soft inside.
DOUBLE CHOC GRANOLA
Ingredients
1 cup oats
1 dessert spoon rapeseed oil
1/2 cup cashew nuts
1 dessert spoon maple syrup
1/2 tsp ginger powder
3 dessert spoons Phudge chocolate spread
30 g broken up dark choc
1/2 cup raisins
Method
1. Melt Phudge in the microwave (10 seconds max)
2. Pour oil and maple syrup into a small pan and heat on a low heat until all combined. Remove from heat.
3. Add oats, cashew nuts and ginger and stir so all is coated.
4. Break up chocolate. I used 30g of 85% lindt chocolate. Mix this into the oat mixture.
5. Pour mixture into a lined baking tray and place in the oven at 160/180 degrees for 20 mins. Don't allow it to burn. Some ovens are hotter than others.
6. Once removed from the oven, add the raisins and mix again.
I love my granola with coconut yoghurt and some berries or banana.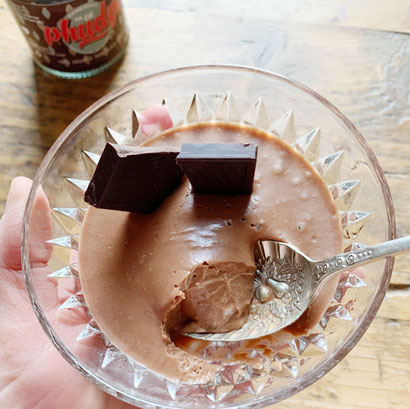 MINT CHOCOLATE MOUSSE
Ingredients
1 cup coconut cream from a can
4 large juicy medjool dates
1 dessert spoon maple syrup
1 dessert spoon cacao powder
2 dessert spoons Phudge chocolate spread
A few drops peppermint essence or mint leaves
Method
1. Soak dates in boiling water for 10-15 mins and drain.
2. Pour cup of coconut milk (full fat from a can) into your blender. I use a nutri bullet. Add your dates, Phudge, peppermint, and maple syrup to the blender.
3. Blend everything together until completely smooth.
4. Pour into separate bowls or jars and cover.
5. Place in the fridge (ideally overnight) or at least for 3-4 hours.
6. Remove mousse and serve with your favourite fruit or cream, or more chocolate.
Do you like chocolate? What's your favourite chocolate treat/recipe?
AD (The Phudge for these recipes was gifted)