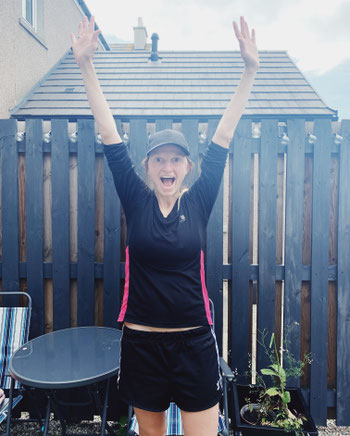 Hello everyone.
I have missed you!!
I didn't write a blog entry for June and it is now the middle of July but I'm about to spoil you with two in close succession!
To be honest, I felt overwhelmed and underwhelmed at the same time.
I felt overwhelmed with all the content I was putting out and I felt underwhelmed with what I could say differently here, that I haven't said elsewhere.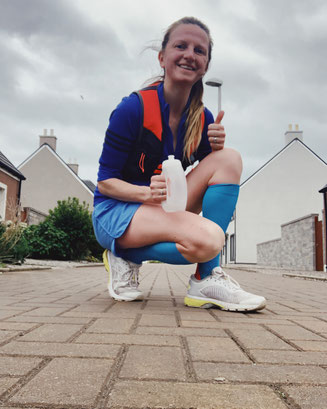 I think a lot about my content and whether I should solely focus on more specific subjects but it always comes back to my passions and when I feel I have something interesting or authentic to say I write.
After running 100K in a week, taking part in my first ever (virtual) ultra marathon, I took some time to reflect on what I learned and decided to write about it. Hopefully it will be of interest.
For those who've not been around for long I thought I'd give a little background to this. I've been a runner for over 15 years. I've run short distances and I've run longer distances. I've tried to speed up and I've tried to slow down, all whilst searching for my niche within running.
I used to see my main goal as running a faster half marathon and marathon distance, aiming to get into the Boston Marathon. Maybe I will achieve that sub 3hour 30 qualifying marathon one day but what I've realised has made me reassess the goal I was holding onto for so long.
For the past few years I've mentioned multiple times that I want to run a 100K Ultra marathon but I was afraid to commit, afraid of how I'd cope running 50K a day over two days. I tested the water 2 months before falling pregnant with Ivy-rose, when I broke the 26.2 mile marathon distance and ran an endurance run of 28 miles in Northumberland.
Myself and my husband ran a marathon last November (my first post baby) and this year was going to be about me pushing myself closer to that 3 hour 30 marathon but then lockdown came and put a halt to the races I'd signed up for.
When I saw The Race to The Stones was offering a virtual Ultra run over 7 days I jumped at the chance to sign up. I felt this was my opportunity to try running a longer distance over more days than a non lockdown ultra would be. There were no time restrictions within the confines of the 7 days, so I could run as many or as few miles as I chose per day, as long as I completed the 100K.
To some this may seem like the stuff of craziness and to others an ultra over 7 days may not seem like such a huge deal. It's all relative to where you are with your running journey. Regardless of how anyone else views it, this challenge was for me. It was the part of me that craves a goal, that needed something to reach for within the confines of lockdown life, that made me sign up.
If you're reading this at the start of your running journey, or if you're injured or not a runner at all, please know that your path is completely right for you and this was completely right for me, which leads nicely onto my first learning so I'll hop into that now.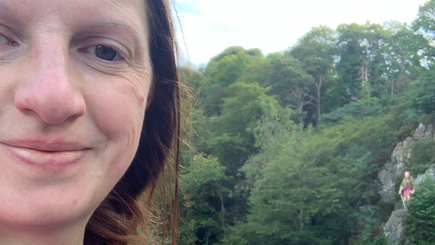 1. There's no traffic in your lane

"She silently stepped out of the race that she never wanted to be in, found her own lane and proceeded to win" (unknown)
Something I feel I've been guilty of with my running is comparing my speed and goals to others. For the past few years I've been in the mentality that I need to speed up. That faster is better. Faster is most important and faster is what I should be aiming for.
What I've realised is that speed isn't what makes me happiest. It's not what brings out the best in me. It's not what I enjoy doing most. Whilst I do enjoy 1-2 sprint sessions a week with running buddies, it's not something I want to focus my running on.
Long distance is my happy place. Long runs connect me to nature and myself in ways I know fuel the positive side of me, the confident side of me and the person I want to be in life. I feel true joy when I run long distances. I need to keep reminding myself about what brings me joy and stay in my own lane.

This applies to life in general too. Something I noticed in lockdown, more than I did previously, is the amount of criticism and finger pointing that happens when you pay too much attention to the opinions of others.
I've seen many people taking to social media to vent frustration, whether that's about people not social distancing, letting too many people into their garden, not wearing a mask, politics, or how to best support the Black Lives Matter movement.
I understand that life has been challenging and many people suffered physically and mentally but something I've been trying to do is shut off from negativity and criticism, stop following people who make me feel bad about myself in any way and avoid conversations that entail talking too much about others.
I don't mean I've started ignoring important things, I just mean I am doing what I see is best, using my own judgement, and not what I feel I "should" be doing. It's okay to take actions you believe to be right. It's okay to do your own research, reflect on what you read and learn and have private thoughts. It's okay not to voice all your opinions. It doesn't mean you don't care because you don't share all your thoughts publicly.
What became clearer to me during my longest runs is that the only person I should focus on for positive change is me. I only have control over my own thoughts, reactions and responses and I want those to be as positive and constructive as possible.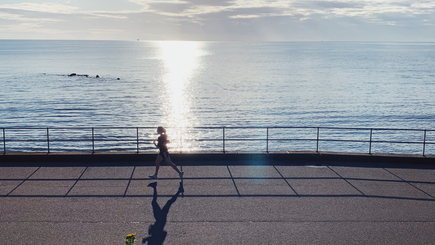 2. We are capable of more than we think
We underestimate ourselves in nearly every aspect of our lives and we can always do more than we believe is possible for us.
I don't say this to make anyone feel bad. I know lockdown has been hard for everyone and I haven't always wanted to get out there and achieve things BUT I didn't think I could run 100K in a week and I did. I shied away from doing something I wanted to do for a long time because I didn't believe I could.
I hope I can encourage you, if you have something you are afraid to try, but really wish you could. I want to encourage you to go ahead! It only takes one step to take the first step and another to take the second. Keep going and you might just do the thing you wish you could.
I worried my body wasn't strong enough or that I'd injur myself by running so far. I realised I didn't need to worry about 'what if' because every aspect of the run was within my control. It didn't matter if I couldn't finish. It was okay to stop, walk, run less, not follow my plan. What mattered was trying and continuing to put one foot on front of the other for as long as I could.
I needed this challenge to remind myself that I can do anything I set my mind to and so can you. I believe in you!
"Never underestimate your own strength. You were born for a purpose and are blessed with the power to achieve it" (Leon Brown).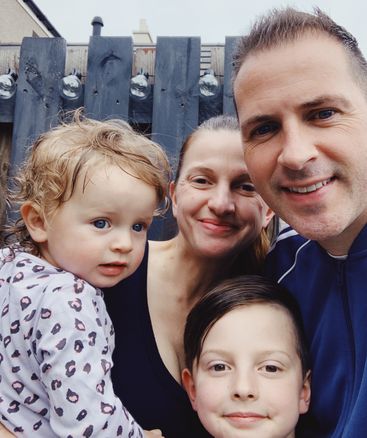 3. We are not separate from our relationships
One of the best podcasts I listened to, during one of my long runs, was Dr Rangan Chatterjee interviewing Esther Perel who is a therapist, author and speaker.
In one hour and thirty minutes many of the deeply held beliefs I had, about my relationships with others and with myself, were proded and questioned!
I found it really insightful to rethink how I see myself and how others might see me. The key premise of the podcast was that relationships are the foundation of everything and it is the quality of our relationships that determine the quality of our lives. We only really get to know ourselves through our interactions with others. Both myself and my husband ended up listening to this podcast and set ourselves some small personal actions to improve.
I'd highly recommend listening to the "Feel Better Live More" series where Dr Chatterjee, who's a GP and Author, interviews many interesting and thought provoking specialists in many areas of health & wellbeing.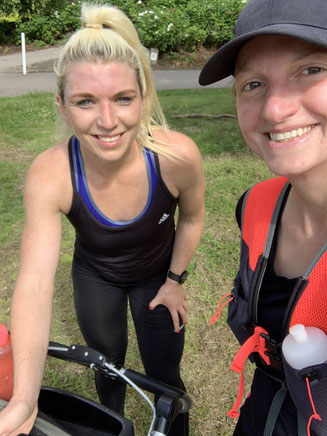 4. Community is everything

I've always known I was a social being, who loves the company of others and chatting face to face, but I realised this more during my long runs than ever.
The gradual lifting of lockdown allowed us to visit our favourite coffee shop again and meet with friends and family, which brought true joy, especially seeing our children interacting with some of their favourite people again.
Running with others for the first time in months also shifted my mood and helped me appreciate companionship. It was lovely to have my friend Chloe doing the same challenge. We both have an affinity for early morning runs too so it worked out well for both of us I think.
5. Break big goals into daily actions
This is something I am quite good at. I like to plan. I have project management qualifications and I know all the practicalities of planning but it doesn't mean I always remember how to do this at the beginning of a new challenge.
Very often I get completely overwhelmed with big goals and find myself sweating about how I'll achieve them. This is when sitting down and writing a plan comes in handy. When it comes to running I don't write detailed plans but I do write a plan, so I know it will fit into everything else in my life.
The easiest way I find to do this is to draw a bar chart on a blank piece of paper, with all of the days of the week across the top, and the distance/times I will run each day of the week underneath.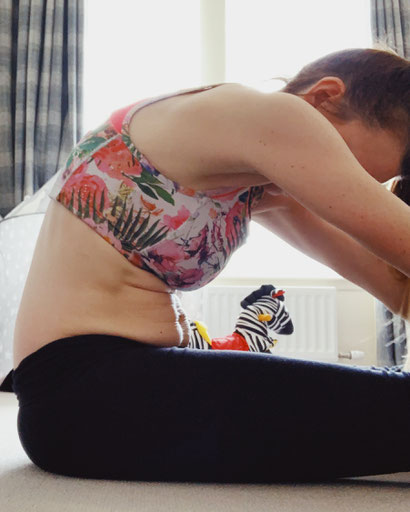 6. Stretch more: it really helps
Another thing I set out to focus on during my running week was stratching. I can't pretend I was perfect but I did do extra stretching in the evening and I made sure that I spent at least 5 minutes after each run stretching too.
I found a video with a 15 minute stretching routine for runners. I thought this was really helpful and it wasn't too long so that I got bored or distracted by something else. I preferred to do the routine in the evening because it meant I didn't have Ivy-Rose crawling all over me or sitting on me.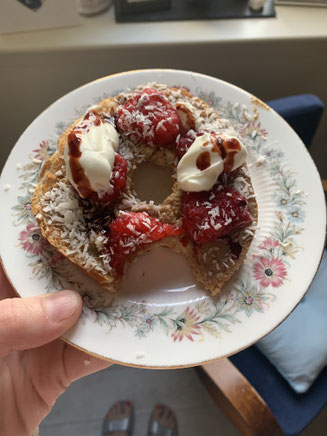 7. Refuel well: carbs are life
Something I wasn't always good at before this Ultra challenge was refuelling within the 30-60 minute window after exercise.
I'd often get distracted, or be in a rush to get to work or school, and leave it longer, until I got a chance to sit down for food.
Being in lockdown made it a lot easier to ensure I did eat very soon after my runs. In fact, I now feel it's become a habit and I have to do it. I get home, remove all my sweaty clothes and chuck on a jumper and shorts and sit down to eat before I shower. This was my routine through most of the challenge and usually I was home in time to eat breakfast with the family.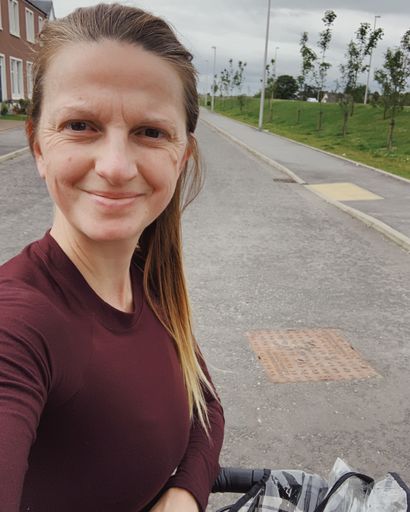 8. Good quality activewear makes a difference
In general I shop second hand for clothing using ebay, charity shops or swaps with friends but when it comes to sports wear I tend to buy new clothing.
I wear it so much that I know it will be worth it and it has to fit properly and be comfortable. I am really particular about my trainers too because I run so many miles I need to make sure I am getting the best support for my feet and touch wood, my osteopath tells me my feet are in great condition for a runner!
When I find comfortable sports wear I don't mix it up much and I keep buying and wearing the same things over and over again.
Previously I would go for cheaper brands but this time I decided to splash out a bit and go for a brand I thought would be sustainable and last. I got myself some Sweaty Betty clothing and I was really impressed. My favourite item was this long sleeved bamboo top. It is so comfortable and soft, perfect for cooler Scottish weather but also breathable for when it's warmer.
I know they are not necessarily THE best for sustainability but their website indicates they are a work in progress. It says they use sustainable and eco friendly fabrics where possible. For example, they use sustainable bamboo without pesticides or fertilisers and it requires 1/3 less water than cotton. You can read more about their sustainability goals via the link here.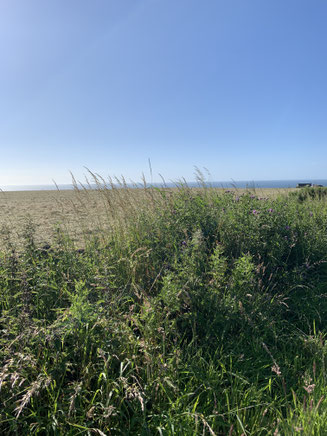 9. Affirm joy before each run
Something that would have been easy to do during this 100K week was to start dreading each run and telling myself how hard it would be.
Don't get me wrong. I was tempted to think this way several times, especially when I woke in the middle of the night and felt stiff and tired. I'd start to think oh no, I can't do this again tomorrow.
What I tried to do instead when I woke up was to tell myself it's okay to feel stiff. It's normal to feel tired but you will feel fine once you've had a cup of coffee. This really seemd to work. I didn't put pressure on myself to feel okay, I just took one step at a time each day. I'd always give myself time before my runs, so I wasn't dashing out the door but at the same time, I didn't leave my runs until later in the day so I had too long to dwell on how I felt.
When I arrived at my running location I'd spend a few minutes thinking about the day, being grateful for my body and visualising the route and then I'd start.
Running with others helped motivate me for those early morning runs and kept me going but what I realised over the week was that I'm pretty positive when it comes to running and distances. I've naturally developed a positive mindset that creates affirmations, rather than negative self talk, when I am running.
If only this would translate into all the other aspects of my life!!

Have you done any running or other challenges during lockdown? How did you find motivating yourself?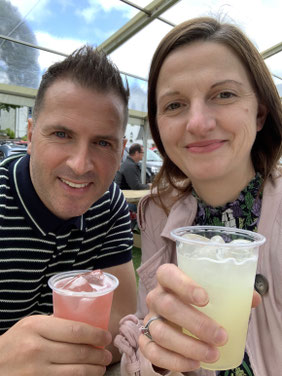 10. I want to run a real Ultra Marathon
I started this blog by saying I was testing the water running 100K over 7 days and what I proved to myself was that I love distance running,
I'm ready to sign up to the real deal when races commence next year. I'm excited to have found something I really enjoy and I know I will run a real life Ultra marathon soon.
I hope you found this post interesting even if you're not a runner. I suspect that lockdown has brought learning for all of us regardless of whether we set ourselves challenges or simply made it through each day.
Love to all and thanks to my support team, in particular my husband, who always gets behind my hair brained challenges.
Jo x