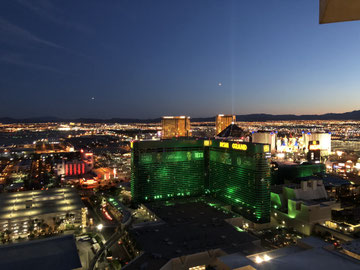 The name Las Vegas was given to the area in the State of Nevada in 1821 by Rafael Rivera, a member of the Antonia Armijo trading party that was traveling to Los Angeles, and stopped for water there on the Old Spanish Trail from New Mexico.  Las Vegas means the meadows in Spanish.
Urbanisation began in 1902, when a railroad linking Los Angeles with Salt Lake City attracted many farmers to the area, and fresh water was piped into the settlement. In 1911, the city was incorporated as part of Clark County. In 1931 work started on the Boulder Dam (now Hoover Dam) bringing a huge number of young male workers. This is when the theatres and casinos were built, largely by the Mafia. My personal image of Las Vegas was born via the film The Casino which I watched many times in my 20s.
The arrival of Howard Hughes in 1966 did much to offset mob influence, and helped turn Las Vegas into more of a family tourist centre, now classified as a Megaresort.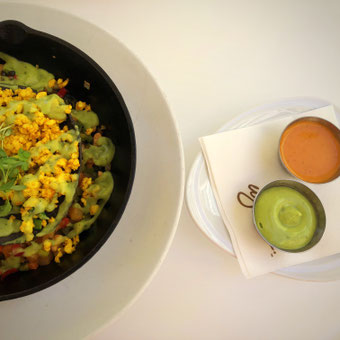 With mass tourism comes mass fast food and if you're strolling down "the Strip" (the main street in Vegas) you will be met with the sights and smells of all these things - burgers, chips, hot dogs and beer - which could lead to the assumption that something like veganism couldn't exist in Las Vegas.
This would be an unfair and inaccurate assumption. Once I spent a little time doing research I realised the city is an easy and tasty place to be vegan. It's a very big and spread out city so you need to know where to go, which is why I'm here to help.
Ironically, Vegas was never somewhere I thought I "must visit". It was near the bottom of my travel priorities, such is the universes way of bringing things into your life.... I've now been 4 times!! My online business holds an annual conference in one of the main hotels (MGM Grand) every April.
Before my second trip to Las Vegas I joined a 'Vegan Las Vegas' Facebook page and this is where I met my friend and "vegan tour guide" Jen. We had loads in common and chatted about all things food/Vegas and Scotland before we met up for lunch at VegeNation, which was my first vegan food experience in Vegas.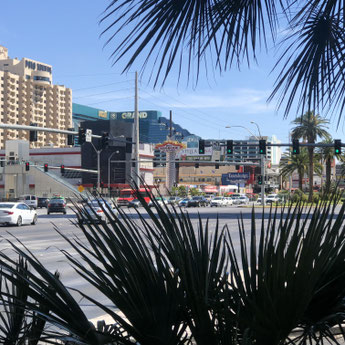 Where to eat?
Having returned from my most recent trip yesterday I thought it was a good time to share some of the vegan and veggie food places I've tried over the years.
If you're visiting for longer and want a more comprehensive guide, it's probably worth investing in Diana Edelman's Las Vegas Vegan Food Guide. Unfortunately, I only heard about this book after my trip but I'll be making a purchase before I return next year. You can buy her book on Amazon for £12.99.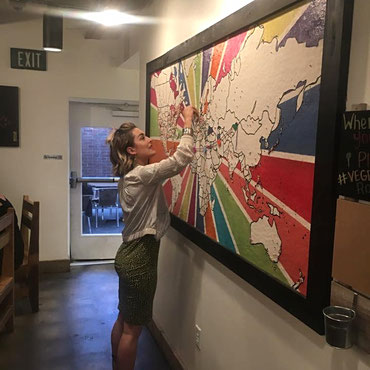 1. VegeNation
This place has a little piece of my heart because it was my first vegan experience in Las Vegas. I also met my friend Jen here for the first time.
I've returned every year to try new things on the menu and introduced many colleagues to the restaurant.
I love the giant world map on the wall where you can see Katie (above) putting Scotland on the map. This year I was a bit of a forgetful blogger and only remembered to take photos of the food when we were half way through so I'm sharing a few pictures from last year.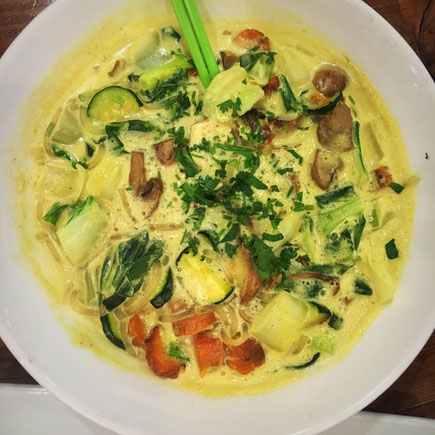 The Thai curry vegetable bowl with sweet potato noodles was delicious and ginormous. There is more than enough for two in here. We also had the sweet potato quesadillas last year, which are pictured below.
Previously I've also tried the vegan 'chicken and waffles', vegetable burger with sweet potato wedges, and the vegan sushi and cheese options.
This year we had a mixture of different tacos and eggplant, dumplings, and potato wedges with Japanese style spices.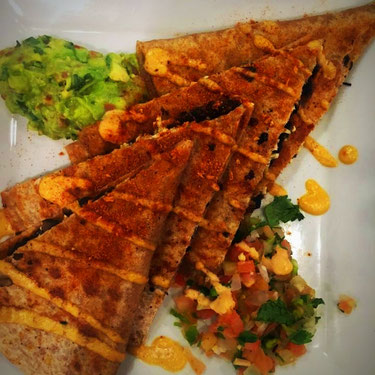 VegeNation is a community-based restaurant serving fresh street food. The cafe is a cool space for people to meet, eat fresh foods, be change makers, and feel damn good. You really feel a community vibe inside and it seems that many people are regulars. There's a sense of warmth and the staff are really friendly too.
The menu is 100% plant based (even the meats, cheeses, and ice cream are made from plants!). Their passion and enthusiasm is summed up on their website.
"we believe in sharing positive vibes, giving awesome service, being kind to the planet, being change makers and doing things creatively."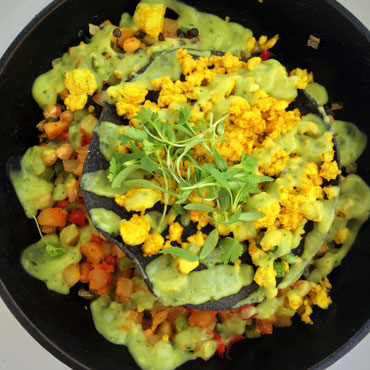 2. Terrace Pointe Cafe - The Wynn Hotel
Every restaurant at The Wynn Las Vegas and Encore offer a vegan and vegetarian menu that is designed and prepared at the same caliber as any of the signature items served. The highest quality meat-free and dairy-free ingredients are used to create flavor combinations so delicious, you won't even know what's "missing." The chefs partner with collaborating vegan chef Tal Ronnen to craft unique and healthy food to be enjoyed at any time of the day.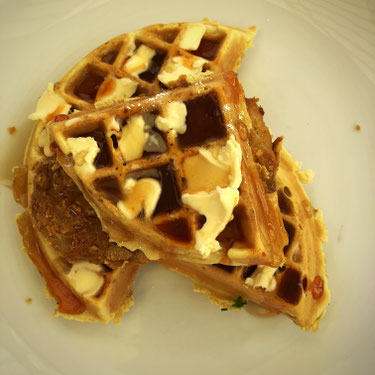 The menu in the Terrace Pointe Cafe was insanely good and varied. I wanted to try EVERYTHING but the two dishes that caught my eye were the french toast with banana soy milk, berries and maple syrup and the tofu scramble with spicy diced potatoes. The latter is what I ended up choosing. It stood out because I've wanted to try tofu scramble for a while but never had the courage to make it myself.
Jen picked the vegan 'chicken' and waffles with maple syrup so obviously I had to picture those too. I've noticed in the USA vegan cafes and restaurants make more effort to create meat substitutes and not solely dishes made with plant-based whole food alternatives. I usually prefer to avoid processed meat alternatives but I make an exception in Vegas because it's so dam good!!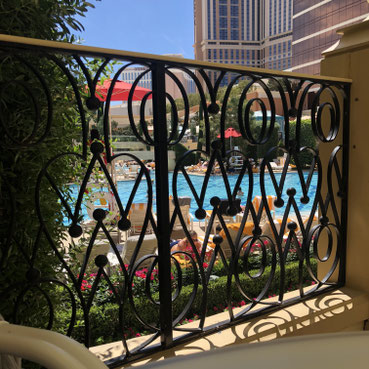 The decor at Terrace Pointe Café really caught my attention. It felt lively and fun and really bright with sunlight that streams in from the floor-to-ceiling, panoramic view of the carefully manicured gardens surrounding the pool. I could visualise being there with my family and my son splashing around in the pool having a whale of a time.
We were lucky to sit on the terrace which felt like we were somewhere in Italy or Spain. I was slightly worried it would be too hot for my pure white Scottish skin, but we had a lovely big umbrella to keep us in the shade.
Okay, so I may have overindulged enthusiasm for the Wynn after I met Jen for brunch! I rushed back to the pool to tell all my colleagues about it, many of whom are vegan or vegetarian, so they really shared my excitement.  We decided to return that evening for more delicious food.
We planned to go back to the Terrace Pointe Cafe but it was shut so instead we visited this delightful place. We started with some pretzels which were delicious and moist and still warm. They were amazing. I ordered myself a quinoa and fruit salad with avocado and then shared some of my cousin's delicious green pizza, which came topped with almond mozzarella. This was possibly the most delicious pizza I've ever tried. The dough was fresh and homemade and the greens were crunchy and Al dente. 
The menu wasn't quite as diverse as the cafe but there were plenty of vegan and vegetarian options. They were all clearly marked with a "v" next to them.
The thing I enjoyed about this place was that there was genuinely something for everyone and meat eaters as well as non meat eaters could enjoy the same dining experience without one person experiencing poor quality food or limited options.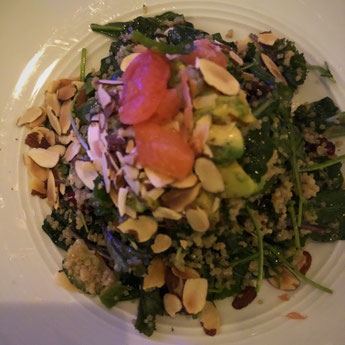 Jardin is an airy conservative-type setting with panoramic views of the Encore pool . There's a lovely cocktail bar as you come into the restaurant and we sat there and had a cocktail whilst waiting for our table.
After a couple of very rushed days at a busy conference where food was sporadic and not that great, I was delighted to have time to experience all the wonderful places listed here. Until next year Las Vegas... I'll be waiting for you!!
What are your thoughts about eating in Las Vegas? Did you think (like me) that it was really unhealthy and non vegan friendly?
I love to hear about others experiences.
Happy Wednesday
Jo x